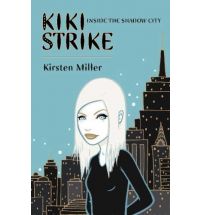 There's no denying that names can be evocative. My mother, for example, believes that the name Trudy is to a degree onomatopoeic, and can only be applied to a tall and rubenesque woman, whilst Nigel is appropriate for somebody with slightly nasal vocal modulations and a fondness for tweed jackets.
How about Kiki Strike, then? All snapping consonants and sharp vowels, it's a name that carries the same sort of warning as a plaque pointing out the presence of a guard dog. And rightly so. Kiki Strike is brutally blonde, brutally smart, and rather revels in being dangerous. She wears nothing but black, gets about on a Vespa, is fluent in several languages, and more than proficient in several varieties of martial arts. Kikis only weakness, it seems, is the fact that she takes her coffee with milk.
Ananka Fishbein, on the other hand, as her name might suggest, cuts somewhat of a less impressive figurealthough this is admittedly partly due to her fondness for sweet treats and hobbies that are generally sedentary in orientation. But though Ananka makes a show of surrounding herself with books, she cant help but yearn to be a part of an adventure external to the dusty tomes in which her family delights. So when she spies a ghostly figure climbing out from the bowels of New York City, she finds herself seeking out the world that it turns out has existed for the better part of a century beneath New York as she knows it: the Shadow City.
But Anankas discovery of the labyrinthine Shadow City is only the beginning of what turns out to be a rip-roaring adventure. Soon enough, she falls in with Kiki Strike, whose identity seems ever-changing: secretive spy, international assassin, Hong Kong movie star, and ex-Soviet royalty, to name but a few. Interest piqued by Kikis mention of a substantial treasure, Ananka, along with a band of smart and sassy girls whose unique skills would never be depicted on a Girl Guide patch, set to work exploring the Shadow City. But the inscrutable Kiki seems a good deal less interested in buried treasure than she is in unearthing past skeletons, and after a series of kidnappings, stolen maps, and all manner of intrigue, Ananka cant help but feel that theres more to the picture than Kiki is letting on. Just who is Kiki Strike, and in just what exactly has she gotten Ananka and the Irregulars involved?
Kirsten Millers debut is a tough and no-nonsense adventure novel that is full of strong female characters and which contains a twisty plot that, like a slinky, quite delights in turning around on itself. Kiki and her gang of Irregulars, as theyre rather delightfully known (in a nod to Arther Conan Doyles Sherlock Holmes books), are strong and empowered, and are defined through their own actions rather than those of others. While it does feel at times as though the characters are invincible (indeed only Kiki seems to have an Achilles heel), which lowers the stakes somewhat, this approach is fairly typical of a rollicking adventure story: a good deal of the fun comes from knowing that the characters will manage to MacGyver their way out of a situation by coming up with weird and wonderful solutions the reader has little hope of predicting. A Reverse Pied Piper device used to scare away rabid sewer rats? Check. Elaborate ninja-style costumes designed for impressive butt-kicking? Check. Home-made tracking devices used to hunt down kidnapping victims? Check indeed.
Of course, one issue with having larger than life characters is that they tend to lack depth, and Millers characters do feel a little flat as a result, particularly when theyre alone rather than working as a group. (Im rather cheekily reminded of Theodore Sturgeons More than Human, where the characters on their own are gifted in one way or the other, but remain to a degree impotent until slotted into the larger social system.) The good-for-nothin baddies probably fare worst here, as theyre generally left to maliciously toss their hair and speechify about the lack of justice in the world. Still, the cackling vaudevillian villain is an almost expected trope in this sort of adventure novel, so one cant really begrudge Miller for adhering to the genres norms.
However, where the novel does stray from genre-appropriate approaches is in the pacing and somewhat convoluted and circuitous plotting. While the beginning of the novel is rather uneven, it does eventually find its stridethat is, until there is a mysterious and unnecessary two-year gap in the narrative. Whilst such a lag may well be realistic, adventure novels arent about realism, and all this gap does is dramatically slow down what has been thus far a fairly action-packed read. The novel does find its legs again, but the latter half of the book feels somewhat weighty as extra layers of espionage are slapped on in an effort to keep things moving. Miller, perhaps aware of this, tries to resolve these various narrative layers in a concise and straightforward manner, but the ending unfortunately ends up feeling pat and simplistic rather than neatly concluded. The Shadow City is also perhaps underutilised, but its possible that the next books in the series will spend a little more time in this curious space.
Still, despite these issues, Kiki Strike is a speedy little read packed with enough girl power to satisfy many a reader. With its devil-may-care narrative, its strong and savvy characters, its wonderful below-ground New York setting, and its preponderance of useful spy tips (do spend some time perusing these), its overall a gloriously, unabashedly fun read that makes quite the pick-me-up on a gloomy day.
Rating:





Purchase Kiki Strike: Into the Shadow City
This book appears in our list of YA books about spies
See our review of The Empresss Tomb
Other books by Kirsten Miller you might like:
Send to Kindle