Weve recently been inundated with YA books about spies, and thought that it might be time to put together a round-up of spy-oriented teen novels. Below is a list of some titles that might interest you. As always, this list only scratches the surface of the spy novels out there, so feel free to chime in with your recommendations.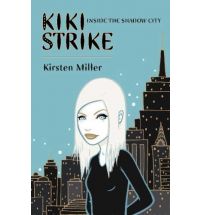 Kiki Strike: Into the Shadow City by Kirsten Miller (see our review)
Blurb: Life will never be the same for Ananka Fishbein after she ventures into an enormous sinkhole near her New York City apartment. A million rats, delinquent Girl Scouts out for revenge, and a secret city below the streets of Manhattan combine in this remarkable novel about a darker side of New York City you have only just begun to know about'
See also: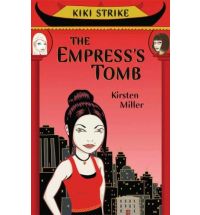 _________________________-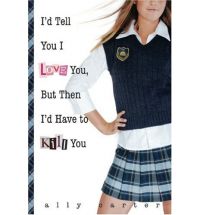 I'd Tell You I Love You, But Then I'd Have to Kill You by Ally Carter (see our review)
See also our review of Cross My Heart and Hope to Spy
See also our review of Dont Judge a Girl by her Cover
Blurb: The Gallagher Academy for Exceptional Young Women lives up to its name. Not only does this exclusive boarding school teach advanced language skills and correct deportment; its students also master the arts of tapping phones, hacking into computers, and spying in public places. At school, second-generation Gallagher Girl Cammie Morgan has impeccable credentials: She is fluent in 14 languages and able to kill an assailant in seven different ways. But recently life has dealt Cammie a card that she never anticipated: She has fallen in love with an ordinary boy who knows nothing about her exotic double life. A truly covert romance.
See also:
__________________________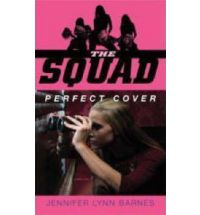 The Squad by Jennifer Lynne Barnes
Blurb: Bayport High's Varsity cheer squad is made up of the hottest of the hot. But this A-list is dangerous in more ways than one. The Squad is actually a cover for the most highly trained group of underage government operatives the United States has ever assembled. They have the perfect cover, because, beyond herkeys and highlights, no one expects anything from a cheerleader.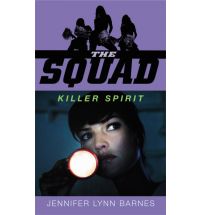 ____________________________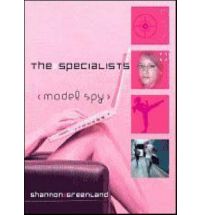 Model Spy by Shannon Greenland
Blurb: Teen genius Kelly James is in a lot of hot water. A whiz with computers, she agreed to help her college rA, David, uncover some top-secret information. After all, she doesnt have many friends and David has always been nice to her. it doesnt hurt that hes supercute and irresistible, too. All she has to do is hack into the governments main computer system. but a few hours later, her whole life changes. she is caught and taken in for questioning, only this isnt your run-of-the-mill arrest. rather than serve a juvenile detention sentence, she accepts the option to change her name and enlist in a secret government spy agency that trains teen agents to go undercover. As if that wasnt overwhelming enough, she discovers that David works for this agency as well! And before she even begins to understand what is going on, shes sent on her first mission as an undercover model. And who better to partner with than David himself!
See also:
_________________________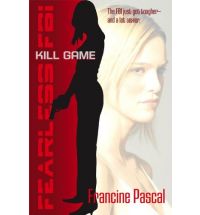 Blurb: Gaia Moore isnt like anyone else in the world.'Shes trained in ten different martial arts. She has a sharp mind, and an even sharper tongue. As a teenager she cut class to bust gang members and drug dealers on the streets of New York City. And now Gaias been recruited to join the worlds leading crime-fighting organization.'At FBI training camp in Quantico, Gaia will become a part of an unparalleled team. Shell learn the strict codes and procedures of the FBI. Shell be pushed to her body and minds utmost limits.'Shell learn how to hunt serial killers.'And she will catch one.
See also:
_________________________________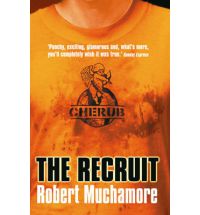 The Recruit by Robert Muchamore
Blurb: CHERUB agents are highly trained, extremely talented'and all under the age of seventeen. For official purposes, these agents do not exist. They are sent out on missions to spy on terrorists, hack into crucial documents, and gather intel on global threats'all without gadgets or weapons. It is an exceptionally dangerous job, but these agents have one crucial advantage: adults never suspect that teens are spying on them.'James is the latest CHERUB recruit. He's a bit of a troublemaker, but he's also brilliant. And CHERUB needs him. James has no idea what to expect, but he's out of options. Before he can start in the field he must first survive one hundred grueling days of basic training, where even the toughest recruits don't make it to the end.
See also:
_________________________________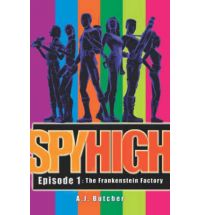 Spy High: Mission One by AJ Butcher
Blurb As students at a special high school that trains them to be secret agents, six teenagers struggle to complete the training exercises as a team before being sent out into the field to sink or swim.
See also:
________________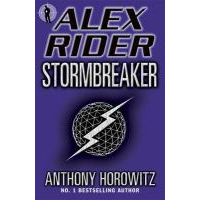 Alex Rider: Stormbreaker by Anthony Horowitz
Burb: When his guardian dies in suspicious circumstances, fourteen-year-old Alex Rider finds his world turned upside down. Forcibly recruited into MI6, Alex has to take part in gruelling SAS training exercises. Then, armed with his own special set of secret gadgets, hes off on his first mission to Cornwall, where Middle-Eastern multi-billionaire Herod Sayle is producing his state-of-the-art Stormbreaker computers. Sayle has offered to give one free to every school in the country but theres more to the gift than meets the eye.
See also:
_______________________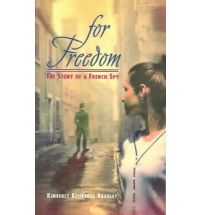 For Freedom: The Story of a French Spy by Kimberly Brubaker Bradley
Blurb: Suzanne Davids everyday life is suddenly shattered in 1940 when a bomb drops on the main square of her hometown, the city of Cherbourg, France, killing a pregnant neighbor right in front of her. Until then the war had seemed far away, not something that would touch her or her teenage friends. Now Suzannes family is kicked out onto the street as German soldiers take over their house as a barracks.'Suzanne clings to the one thing she really lovessinging. Her voice is so amazing that she is training to become an opera singer. As Suzanne travels around for rehearsals, cosume fittings, or lessons, she learns more about what the Nazis are doing and about the people who are disappearing. Her travels are noticed by someone else, an organizer of the French Resistance. Soon Suzanne is a secret courier, a spy fighting for France and risking her own life for freedom
___________________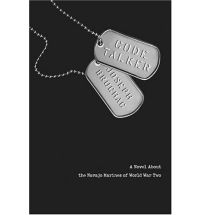 Blurb: The United States is at war, and sixteen-year-old Ned Begay wants to join the cause especially when he hears that Navajos are being specifically recruited by the Marine Corps. So he claims he s old enough to enlist, breezes his way through boot camp, and suddenly finds himself involved in a top-secret task, one that s exclusively performed by Navajos. He has become a code talker. Now Ned must brave some of the heaviest fighting of the war, and with his native Navajo language as code, send crucial messages back and forth to aid in the conflict against Japan. His experiences in the Pacific from Guadalcanal to Iwo Jima and beyond will leave him forever changed.
____________________________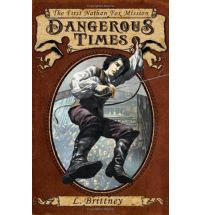 Nathan Fox: Dangerous Times by Lynn Britney
Blurb: Nathan Fox is a boy-actor in the same company as Will Shakespeare. Recruited into Walsingham's fledgling secret service, he is sent to a School of Defence run by Master Robey. Here he is taught sword fighting, the use of daggers, archery, riding and code breaking. His first mission is to Venice, partnering England's foremost agent John Pearce. There they become involved in a sea battle against the Turks, led by the formidable General Othello.
See also: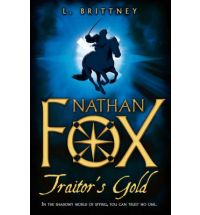 ______________________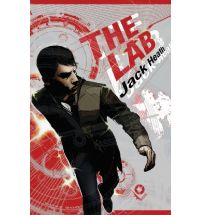 Blurb: Meet a 16-year-old superhuman: Agent Six of Hearts. Hes the strongest, most effective agent in the Deck, a team of special agents fighting to uphold justice in a completely corrupt world. Six would be invincible if not for a deadly secret. He is the product of an illegal experiment by the Lab a ruthless division of the corporation that controls his world. When the Deck begins to investigate the Lab, Six walks a tightrope between his two worlds, trying to keep his origin a secret.'But then he meets Kyntak, a boy whose past equals his own. As Sixs life spirals out of control, he must face his most dangerous, thrilling mission yet.
See also: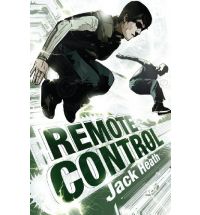 ____________________
Alibi Junior High by Greg Logsted
Blurb: Thirteen-year-old Cody Saron speaks five languages and has travelled to every corner of the globe with his father, an undercover CIA agent. Cody knows how to pick a lock or follow a trail, but he has no idea how to fit in with regular kids, or how to make it through a day of junior high. When the danger surrounding Cody's dad heats up, Cody is sent to stay with his aunt in her small Connecticut suburb and must adapt to this foreign world of normal life. Author Greg Logsted weaves humor and heart with thrilling action and unexpected twists in this original, quirky, fish-out-ofwater story.
________________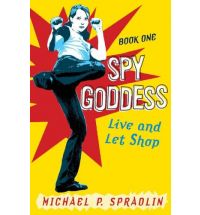 Spy Goddess: Live and Let Shop by Michael P Spradlin
Blurb: Blackthorn Academy, meet Rachel Buchanan.'Im not a delinquentIm just misunderstood.'Of course, the judge didnt see it that way. She gave me a choice: juvenile detention or boarding school in Pennsylvania, of all places. Thats how I wound up at freaky Blackthorn Academy. This school is clearly hiding some major secrets.'And heres something you should know about me: Rachel Buchanan never gives up when there are secrets to uncover. Watch out, Blackthorn Academy!
See also: