Hollywood Hills: A Novel by Joseph Wambaugh
Blurb: The legendary Hollywood Hills are home to wealth, fame, and powerpassing through the neighborhood, its hard not to get a little greedy. 'LAPD veteran Hollywood Nate Weiss could take or leave the opulence, but he wouldnt say no to onscreen fame. He may get his shot when he catches the appreciative eye of B-list director Rudy Ressler, and his troublemaking fiancee, Leona Brueger, the older-but-still-foxy widow of a processed-meat tycoon. Nate tries to elude her crafty seductions, but consents to keep an eye on their estate in the Hollywood Hills while theyre away.'Also minding the mansion is Raleigh Dibble, a hapless ex-con trying to put the past behind him. Raleigh is all too happy to be set up for the jobas butler-cum-watchdogby Nigel Wickland, Leonas impeccably dressed art dealer. What Raleigh doesnt realize is that under the natty clothes and posh accent, Nigel has a nefarious plan: two paintings hanging on the mansions walls will guarantee them more money than theyve ever seen.'Everyones dreams are just within reachthe only problem is, this is Hollywood. A circle of teenage burglars that the media has dubbed The Bling Ring has taken to pillaging the homes of Hollywood celebutants like Paris Hilton and Lindsay Lohan, and when a pair of drug-addled young copycats stumbles upon Nigels heist, thats just the beginning of the disaster to come. Soon Hollywood Nate, surfer cops Flotsam and Jetsam, and the rest of the team at Hollywood Station have a deadly situation on their hands.
___________________
The New Yorker Stories by Ann Beattie
Blurb: When Ann Beattie began publishing short stories in'The New Yorker in the mid-seventies, she emerged with a voice so original, and so uncannily precise and prescient in its assessment of her characters drift and narcissism, that she was instantly celebrated as a voice of her generation. Her name became an adjective:'Beattiesque. Subtle, wry, and unnerving, she is a master observer of the unraveling of the American family, and also of the myriad small occurrences and affinities that unite us. Her characters, over nearly four decades, have moved from lives of fickle desire to the burdens and inhibitions of adulthood and on to failed aspirations, sloppy divorces, and sometimes enlightenment, even grace. 'Each Beattie story, says Margaret Atwood, is like a fresh bulletin from the front: we snatch it up, eager to know whats happening out there on the edge of that shifting and dubious no-mans-land known as interpersonal relations. With an unparalleled gift for dialogue and laser wit, she delivers flash reports on the cultural landscape of her time.'Ann Beattie: The New Yorker Stories is the perfect initiation for readers new to this iconic American writer and a glorious return for those who have known and loved her work for decades.
___________________
The Legion by Simon Scarrow
Blurb: The bestselling author of Centurion and The Gladiator returns with another action-packed Roman adventure.Trouble is brewing in Egypt. Rebel gladiator Ajax and his men have been posing as Roman soldiers and attacking naval bases, merchant vessels and villages. Prefect Cato and Centurion Macro have been charged with the task of tracking down the renegade warrior before the problem gets out of control. Joining forces with Legion III, they hope to destroy their enemy on the battlefield. But the cunning gladiator has other ideas..
___________________
Factotum (Monster Blood Tattoo 3) by DM Cornish
Blurb: Not all monsters look like monsters. Some everyday folk are the worst monsters of all Rossamund Bookchilds lamplighting career has been brought to a dramatic close. Now he is faced with a new life as personal servant to Europe, an elegant and powerful monster-hunter. As Rossamund settles into his new home, he finally discovers the true story of his origins, a story that must remain hidden if he is to survive in a land divided by the conflict between men and monsters. But now that he knows the truth about where he comes from, how can Rossamund play his role as assistant to a professional monster-hater? Only his loyalty to Europe keeps him by her side as they embark on a dangerous monster-hunting tour that can only end in tragedy
___________________
The Painted Boy by Charles de Lint
Blurb: Jay Li should be in Chicago, finishing high school and working at his familys restaurant. Instead, as a born member of the Yellow Dragon Clanpart human, part dragon, like his grandmotherhe is on a quest even he does not understand. His journey takes him to Santo del Vado Viejo in the Arizona desert, a town overrun by gangs, haunted by members of other animal clans, perfumed by delicious food, and set to the beat of Malo Malo, a barrio rock band whose female lead guitarist captures Jays heart. He must face a series of dangerous, otherworldlyand very humanchallenges to become the man, and dragon, he is meant to be.
___________________
Tyger Tyger by Kersten Hamilton
Blurb: Teagan Wylltsons best friend, Abby, dreams that horrifying creaturesgoblins, shape-shifters, and beings of unearthly beauty but terrible crueltyare hunting Teagan. Abby is always coming up with crazy stuff, though, so Teagan isnt worried. Her life isnt in danger. In fact, its perfect. Shes on track for a college scholarship. She has a great job. Shes focused on school, work, and her future. No boys, no heartaches, no problems.'Until Finn Mac Cumhaill arrives. Finns a bit on the unearthly beautiful side himself. He has a killer accent and a knee-weakening smile. And either hes crazy or hes been haunting Abbys dreams, because hes talking about goblins, too . . . and about being The Mac Cumhaill, born to fight all goblin-kind. Finn knows a thing or two about fighting. Which is a very good thing, because this time, Abbys right. The goblins are coming.
___________________
Blank Confession by Pete Hautman
Blurb: Shayne Blank is the new kid in townbut that doesnt stop him from getting into a lot of trouble very quickly. The other kids dont understand him. Hes not afraid of anything. He seems too smart. And his background doesnt add up. But when he walks into the police department to confess to a murder, it quickly becomes apparent that nothing is as it seems. Theres more to Shayneand his storythan meets the eye. As the details begin to fill in, the only thing that becomes clear is that nothing about Shaynes story is clear at all.
___________________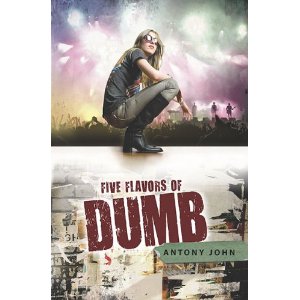 Five Flavors of Dumb by Antony John
Blurb: The Challenge: Piper has one month to get the rock band Dumb a paying gig. The Deal: If she does it, Piper will become the bands manager and get her share of the profits. The Catch: How can Piper possibly manage one egomaniacal pretty boy, one talentless piece of eye candy, one crush, one silent rocker, and one angry girl? And how can she do it when shes deaf?'Piper cant hear Dumbs music, but with growing self-confidence, a budding romance, and a new understanding of the decision her family made to buy a cochlear implant for her deaf baby sister, she discovers her own inner rock star and what it truly means to be a flavour of Dumb.
___________________
The Identity Man by Andrew Klavan
Blurb: John Shannon is a petty thief on the run. A three-time loser framed for a murder he didnt commit, he knows the cops are closing in on him and that hes facing life in prison or death by lethal injection. Then, as if out of nowhere, a bizarre text message draws him to a meeting in the dark of night. A foreigner who calls himself the Identity Man offers Shannon an incredible chance to start again: a new face, a new home, a new beginning. 'Soon, to his amazement, Shannon finds himself living a life he never dreamed possible. In a ruined city that is trying to rebuild, he finds work as a carpenter and a wood carver. He meets the beautiful Teresa Grey and for the first time falls in love with the sort of woman who could make him a better man. 'It seems too good to be true and it is. Just as Shannon feels within sight of redemption, all hell breaks loose. It turns out this ruined city is crawling with corruption. There are crooked politicians, gangsters, dirty cops everywhere and, for some reason he doesnt understand, all of them seem to want Shannon dead.'John Shannon has run out of second chances, and now hes running out of time. Moving through the darkness in the burnt-out shambles of a dirty town, hes got to ferret out the secret of his new life and fast if he wants to be left with any life'at all.
___________________
The Naming of the Dead by Ian Rankin
Blurb: A murder has been committed but as the victim was a rapist, recently released from prison, no one is too concerned about the crime. That is, until Detective Inspector John Rebus and DS Siobhan Clarke uncover evidence that a serial killer is on the loose When Rebus also starts looking into the apparent suicide of an MP, he is abruptly warned off the case, not least because the G8 leaders have gathered in Scotland, and Rebuss bosses want him well out of the way. But Rebus has never been one to stick to the rules, and when Siobhan has a very personal reason for hunting down a riot cop, it looks as though both Rebus and Clarke may be up against their own side
___________________
The Grove by John Rector
Blurb: The last time farmer Dexter McCray went off his medication, someone wound up dead. So, after waking from an alcoholic blackout to discover his tractor stuck in a ditch and the body of a teenage girl in the cottonwood grove bordering his cornfield, things look worryingly familiar. 'With no alibi and a creeping suspicion that he might indeed be guilty, Dexter decides to investigate the crime himself. He can't tell anybody. Not his friend, the sheriff, who keeps offering to help him winch his tractor out of the ditch. Nor his estranged wife, whose love he's desperate to win back. And certainly not the Tollivers, his redneck neighbors. Fortunately, Dexter's not entirely alone. He has some help.'In the shape of the dead girl herself.
___________________
Hull Zero Three by Greg Bear
Blurb: A starship hurtles through the emptiness of space. Its destination unknown. Its purpose? A mystery. Its history? Lost. Now, one man wakes up. Ripped from a dream of a new home, a new planet and the woman he was meant to love in his arms, he finds himself wet, naked, and freezing to death. The dark halls are full of monsters but trusting other survivors he meets might be the greater danger. All he has are questions: Who is he? Where are they going? What happened to the dream of a new life? What happened to the woman he loved? What happened to Hull 03? All will be answered, if he can survive. Uncover the mystery. Fix the ship. Find a way home.
___________________
Rise Again by Ben Tripp
Blurb: Forest Peak, California. Fourth of July. Sheriff Danielle Adelman, a troubled war veteran, thinks she has all the problems she can handle in this all-American town after her kid sister runs away from home. But when a disease-stricken horde of panicked refugees fleeing the fall of Los Angeles swarms her small mountain community, Danny realizes her problems have only just begun'starting with what might very well be the end of the world. Danny thought she had seen humanity at its worst in war-torn Iraq, but nothing could prepare her for the remorseless struggle to survive in a dying world being overrun by the reanimated dead and men turned monster. Obsessed with finding her missing sister against all odds, Danny's epic and dangerous journey across the California desert will challenge her spirit . . . and bring her to the precipice of sanity itself. . . .
___________________
Cleopatra: A Life by Stacy Schiff
Blurb: Her palace shimmered with onyx, garnets, and gold, but was richer still in political and sexual intrigue. Above all else, Cleopatra was a shrewd strategist and an ingenious negotiator.'Though her life spanned fewer than forty years, it reshaped the contours of the ancient world. She was married twice, each time to a brother. She waged a brutal civil war against the first when both were teenagers. She poisoned the second. Ultimately she dispensed with an ambitious sister as well; incest and assassination were family specialties. Cleopatra appears to have had sex with only two men. They happen, however, to have been Julius Caesar and Mark Antony, among the most prominent Romans of the day. Both were married to other women. Cleopatra had a child with Caesar andafter his murderthree more with his protege. Already she was the wealthiest ruler in the Mediterranean; the relationship with Antony confirmed her status as the most influential woman of the age. The two would together attempt to forge a new empire, in an alliance that spelled their ends. Cleopatra has lodged herself in our imaginations ever since.'Famous long before she was notorious, Cleopatra has gone down in history for all the wrong reasons. Shakespeare and Shaw put words in her mouth. Michelangelo, Tiepolo, and Elizabeth Taylor put a face to her name. Along the way, Cleopatras supple personality and the drama of her circumstances have been lost. In a masterly return to the classical sources, Stacy Schiff here boldly separates fact from fiction to rescue the magnetic queen whose death ushered in a new world order. Rich in detail, epic in scope, Schiff s is a luminous, deeply original reconstruction of a dazzling life.
___________________
Mercury Falls by Robert Kroese
Blurb: Years of covering the antics of End Times cults for The Banner, a religious news magazine, have left Christine Temetri not only jaded but seriously questioning her career choice.'That is, until she meets Mercury, an anti-establishment angel who's frittering his time away whipping up batches of Rice Krispy Treats and perfecting his ping-pong backhand instead of doing his job: helping to orchestrate Armageddon. With the end near and angels and demons debating the finer political points of the Apocalypse, Christine and Mercury accidentally foil an attempt to assassinate one Karl Grissom, a thirty-seven-year-old film school dropout about to make his big break as the Antichrist.'Now, to save the world, she must negotiate the byzantine bureaucracies of Heaven and Hell and convince the apathetic Mercury to take a stand, all the while putting up with the obnoxious mouth-breathing Antichrist.
___________________
Eighteen Acres by Nicole Wallace
Blurb: From the former Communications Director for the White House and current political media strategist comes a suspenseful and smart commercial novel about the first female president and all dramas and deceptions she faces both in politics and in love. Eighteen Acres, a description used by political insiders when referring to the White House complex, follows the first female President of the United States, Charlotte Kramer, and her staff as they take on dangerous threats from abroad and within her very own cabinet. Charlotte Kramer, the 45th US President, Melanie Kingston, the White House chief of staff, and Dale Smith, a White House correspondent for one of the networks are all working tirelessly on Charlottes campaign for re-election. At the very moment when they should have been securing success, though, Kramers White House implodes under rumours of her husbands infidelity and grave errors of judgment on the part of her closest national security advisor. In an upheaval that threatens not only the presidency, but the safety of the American people, Charlotte must fight to regain her footing and protect the country she has given her life to serving.
___________________
Foreign Bodies by Cynthia Ozick
Blurb: Cynthia Ozick is one of Americas literary treasures. For her sixth novel, she set herself a brilliant challenge: to retell the story of Henry Jamess'The Ambassadorsthe work he considered his bestbut as a photographic negative, that is the plot is the same, the meaning is reversed. At the core of the story is Bea Nightingale, a fiftyish divorced schoolteacher whose life has been on hold during the many years since her brief marriage. When her estranged, difficult brother asks her to leave New York for Paris to retrieve a nephew she barely knows, she becomes entangled in the lives of her brothers family and even, after so long, her ex-husband. Every one of them is irrevocably changed by the events of just a few months in that fateful year.