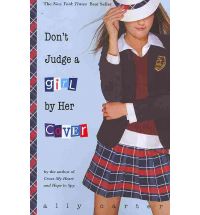 When youre a spy in training, school holidays take on a whole extra dimension. Instead of competing for the worst part-time job or testing your physical endurance by embarking upon a Simpsons marathon, you may well spend your days accompanying your friends to political rallies and fending off would-be kidnappers. Especially if youre Cammie Morgan, and trouble (and kidnappers) has a way of finding you.
Cammies generally been fairly blase about her spyhood. Sure, her fathers MIA, but the reality doesnt seem to have set in for Cammie yet, and she flouts rules with gay abandon and throws herself into danger with nary a second thought. For someone whose entire life is about vigilance, Cammie really has rather a poor sense of self-preservation.
But being rushed by a group of kidnappers starts to bring home to Cammie the reality of her situation. Spying isnt all about breaking the Sodoku world record and being able to sing Top 40 songs in 37 different languages. In fact, its quite dangerousand not just to those immediately involved, but to anyone connected to her. Its not about the odd tussle in the gym, but about the threat of real physical harm, as Cammie painfully (literally) finds out. Moreover, its about not being able to trust others, even though you may have spent your whole life with them
Dont Judge a Girl by her Cover'represents growth for both Ally Carter as an author and Cammie as a character. The novel is a lot meatier than its two predecessors, with the plot featuring rather a lot more spying and life-risking and rather a lot less romantic bluster (although admittedly my fiances thoughts on the matter were not enough plot, too much romance. Hes articulate like that). Its the first in the series where the main plot revolves not around Cammies romantic life, and where the romantic aspects, although present, take a back seat to the action (erm, the other'kind of action). Cammie, who was becoming known for brazenly following her heart even when her mind begged her not to go there, grows a good deal in this book, and though she admittedly sees sexy spy-boy Zach lurking in every shadow, spends some time reflecting on trust, risk and identity.
The issue of identity is key in this Gallagher Girls outing, with Carter giving it thematic centre stage. Cammies struggles to accept the life she has been born into (spies beget spies, apparently) are mirrored by Macey McHenrysMacey has spent her entire life being manipulated for her parents political gain, donning an alter ego much in the same way that the spy girls do. Curiously, Macey, who is otherwise about as vivacious as it gets, seems to lack agency when around her family, and I cant help but wonder to what degree the same is true for Cammie in terms of her own identity and career path. Much like Hogwarts, Gallagher seems to take in kids whether or not they want it.
Speaking of Hogwarts, I have to say that theres a certain Harry Potter-esqueness in these books in that the main characters are kept in the dark until they really need to know something (Oh, horcruxes! Forgot about those until it was appropriate to the plot! Sorry about that!). While I understand that hand-feeding the characters information is necessary at times lest they overindulge on plot, this does occasionally lend a certain artificiality to the way that things unfold. And given the astonishing pace of these books, it does make for some confusing moments here and thereI had to go back and re-read several times in this one, which is unusual for me.
Still, despite its slightly rushed feel, Dont Judge a Girl by her Cover'brings some interesting tidbits to the tablethe challenge of maintaining a friendship in difficult times, the question of how much agency we really have in our lives, and the ever present question of who is trustworthy and what makes them soand this combined with the intriguing plot makes it the strongest Gallagher outing thus far. And how can you not love a spy school for girls?
Final random aside: When Preston calls Cammie and Macey ladieeezz, this was my mental image
Rating:





(very good)
Your turn: whos your favourite fictional spy?
With thanks to Hachette Australia for the review copy
See also our review of:
See also our review of'I'd Tell you I Love you but then I'd Have to Kill you
See also our review of Cross My Heart and Hope to Spy
See also our review of Heist Society
Purchase Dont Judge a Girl by her Cover'from Amazon | Book Depository UK | Book Depository USA | Booktopia
This book appears on our list of YA books about spies
Other books by Ally Carter: