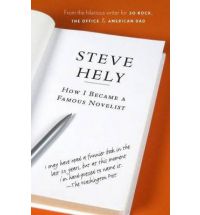 Ah, the great American novel. Many have tried, many have failed. History is littered with those who have come off a little worse for wear for having attempted such a thing: shattered marriages, flabby livers, unfortunate shotgun accidents and, well, plenty more flabby livers abound. Creating a novel that will touch the hearts of the everyman is a lofty goal, and it takes a certain amount of passion and skill, and a rather liberal addition of je ne sais qoi to succeed.
Unless youre Pete Tarslaw. Embittered by a soul-destroying career writing university entrance applications and shattered by the news of the upcoming marriage of his ex-girlfriend, Pete sets out to turn that shruggable I dunno element of Great Fiction into a paint-by-numbers affairand a profitable one at that. The key elements of his plan for literary world domination? To show up smarmy pseudo-literary author Preston Brooks, and to show his ex exactly what shes missing.
The planning component of Petes literary fervour involve stalking Borders patrons and flicking through the Lifestyle channel for tear-jerker topics (widows! WWII! abandoned dogs!), must-have settings (Vegas! France! Peru!), and elements required for bookclub consumption (clubs and societies! baking and muffins! a depressing and/or ambiguous ending!). Its hilarious, but painfully so, because Im quite sure than in the past year or so Ive reviewed plenty of such books (high-concept YA and secret society thrillers, Im talking about you).
Hely continues his teeth-grittingly accurate depiction of the writing process (procrastination, junk food, and an over-reliance on non-prescription medication), and of course the publishing process (which amounts to something like: if wed turned down the books wed accepted and accepted the ones wed turned down we would probably be in the same situation). Its unflinchingly rude and cynical, and its a riot. But the novel really gets going when Petes novel starts to climb the Amazon chartsan occurrence thats about as transparent as Ulysses. Petes unashamed hubris and his vindictive motivations start to give way under the combined pesky forces of insight and conscience, and he slowly begins to realise that hes dressed about as appropriately as the proverbial emperor.
Like the hilarious'Russell Wiley is Out to Lunch by Richard Hine'(see my review), How I Became a Famous Novelist'is a spot-on satire of both the publishing industry and those who populate it. Although Helys approach does occasionally veer more towards condemnation than critique, theres more going on here than a railing-against-the-establishment furore. While no publishing stone remains untouched (book reviewers cop quite a clout!), there is a certain warmth here: the novel, for all its bilious ardour, is also'a frank assessment of the power of story and the costs of cynically manipulating it for financial gain. Tarslaw may not be the most easy character with whom to sympathise, but the emphasis on situational (and systemic) humour will keep the reader chuckling away.
This book was read as part of my participation in the MS Readathon, a charity event that supports multiple sclerosis research. If you would like to sponsor my efforts, you can do so'here. All donations are tax deductible.
Rating:





(excellent)
With thanks to Black Inc for the review copy
This book appears on our list of books about books
Purchase How I Became a Famous Novelist'from the Publisher | Amazon | Book Depository UK | Book Depository USA