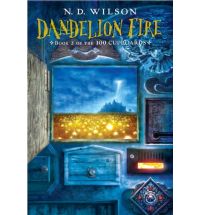 Henry York spends his nights in an attic room bristling with cupboards of all shapes and sizes. These are cupboards, though, that hold a good deal more than moth-eaten overcoats and yellowing stamp collections. Cupboards that lead into myriad worlds, some familiar, some vastly less so, but all of which take rather less than a cube of Turkish delight to tempt the young and curious. But while the worlds that exist behind some of these cupboards are no doubt places of wonder and adventure, it is the other, darker worlds that seem to call Henry. And with good reason, as it turns out, for Henry is not from our world, but from somewhere within the cupboards. Desperate to learn more about himself, about his history, and his identity, the siren song of these complex, ambiguous worlds, and their endless and uncharted possibilities is simply too much.
But while Henry is on some level conscious that he is courting danger in crossing the threshold from his warm, safe Kansas farmhouse to the myriad'anythings that exist on the other side, the consequences of doing so don't in the least hesitate to make themselves known. Henry, the seventh son of a seventh son, is courted by a stranger who attempts to inure Henry into his sinister plans: this man is service to none other than Nimiane, a terrifying eyeless crone intent on achieving a foul, soul-sucking domination of the worlds behind the cupboards. 'Henry and his family, who through a series of violent and chilling events have become separated, find themselves trekking through the wild and anonymous lands beyond the cupboards, searching not only for each other, but for a way to overcome the seemingly invincible Nimiane.
Dandelion Fire marks ND Wilson's second foray into the complex, fantastical world first introduced to us through his excellent middle years novel'100 Cupboards (see our review). Like its predecessor, its full of rich, voluptuous language, and takes an almost languid approach to narrative, giving it the same sense of the organic, the natural, in terms of plotting. Indeed, Im pleased to be able to note that this middle book of the trilogy stands well on its own two legs, rather than acting as a bridge between an introductory first novel and the inevitable'denouement'that is the thirdalthough I would recommend reading its predecessor before attempting this book. While'Dandelion Fire is considerably longer than the aforementioned 100 Cupboards, it does not feel bloated: rather, Wilson rather admirably uses the additional space not only to subject his poor characters to rather a lot of intrigue and violence, but also to make salient certain contrasts and themesalthough to its credit rarely in a didactic manner.
There are the same themes of alienation versus belonging, and of family and togetherness, although in this volume theyre all the more apparent. In a nod to Oz,'the disconnect between the pseudo-home of Kansas and that of the worlds in the cupboards is highlighted through the virtual destruction of the former, leaving the latter as the only option, and perhaps, despite its quiet anonymity, the only true reality. 'The loss of the homestead is quite moving in a way, alluding as it does to the fact that Frank and his family have never truly belonged, have always been sort of temporary, transitory residents. But this loss of the material pseudo-home serves to emphasise the importance of family, and acts as a catalyst for Frank and his family to begin their search for the missing Henry and Henrietta, an effort that eventually culminates in their banding together against what seem to be insurmountable odds. Family and the importance of kin is in evidence all throughout the book, and is echoed through minor characters, such as a secondary character, also called Frank, who bears many of the same loyal traits as Henrys uncle, and who similarly seeks to protect him. The strength of the individual is also touched upon, however, for example the strength upon which Henry is able to draw after his formal christening, an event that not only cements his place within his family, but that also affords him an identity through which he is able to channel a certain sense of agency.
I did, I have to admit, wince a little at the notion of a christening and of the somewhat heavy-handed way with which its included, but for the most part Wilson, though dealing with ostensibly Christian themes, keeps these as an interpretable subtext rather than making them a rather overt allegory in the vein of C S Lewis (although there are definite nods to Lewiss work here). In fact, the Christian influence is rather arguable, given that there are strong pagan and humanist themes that seem to run through the book. There is, for example, that of the natural versus the unnatural, such as the native powers of Henry and his family when contrasted with the parasitic, manufactured abilities of Nimiane and Darius, through whom Nimiane rather horrifyingly acts; theres also the fact that Henry draws his strength from a dandelion, and that he has a sort of familiar in the strange winged beast known as a raggant.
But rather than ascribing responsibility to fate or to some higher being, Wilson emphasises the role of the individual (or of the group) in their own actions, and indeed one of the most common themes throughout the book is the selfless sacrifice that must be made in order to achieve a noble outcome. We watch characters such as Darius struggle under the weight of his power, his inability to channel it productively or engage with its consequences, and we watch Nimiane fall under her own arrogance, while in contrast, Henry learns to manage his skills and strengthsalthough not without a great deal of suffering. In fact, each of the main characters demonstrates quite a noticeable degree of growth, and in a realistic, earned kind of way rather than having it sort of awkwardly bestowed upon them.
Its probably clear from the above that'Dandelion Fire does not quite have the quirky kookiness that characterises 100 Cupboards, but its not without its moments of levity. Wilsons at once rich and laconic prose is a pleasure to read, and its full of winking allusions and asides that add both depth and breadth to the novel without resulting in turgidity. In terms of the narrative, there are moments of familiarity that readers of classic childrens fantasy works may find somewhat derivative, and its true that occasionally the plot does become a little lost in itself, particularly when Wilson is working to weave together multiple simultaneous viewpoints, but its just so difficult not to fall for the worlds that Wilson has created: Im entirely enamoured of that little attic room bristling with its cupboards.
Rating:





With thanks to Simple Schooling Classroom for the review copy.
Purchase Dandelion Fire
See also our review of 100 Cupboards.
Other books by ND Wilson you might like: