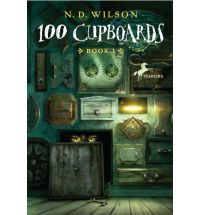 Blurb: Twelve-year-old Henry York wakes up one night to find bits of plaster in his hair. Two knobs have broken through the wall above his bed and one of them is slowly turning . . .Henry scrapes the plaster off the wall and discovers cupboards of all different sizes and shapes. Through one he can hear the sound of falling rain. Through another he sees a glowing room'with a man pacing back and forth! Henry soon understands that these are not just cupboards, but portals to other worlds.
N.D. Wilsons 100 Cupboards is an unsettling read, something thats evident from its first pages. While the book begins in what could be seen as a fairly'prosaic'manner for a book for young readers, Wilsons curiously beautiful way with words paints a world were things that are somewhat askew. 'Odd echoes, such as protagonist Henry moving to a town of the same name, abound, and there is a sense that 100 Cupboards is not just one story, but rather is one of many overlapping stories. This oddness is also evident throughout the actions of many of the characters, many of whom exhibit an almost pathological sense of detachment throughout the book: Henry demonstrates an almost disturbing lack of interest in his parents disappearance and the subsequent reveal of their true identity, while Uncle Frank has a shrugging indifference to most anything. There are, it turns out, reasons that go someway towards explain this lack of emotional detachment, but its still something that will perhaps cause a chill in more than a few readers.
The narrative itself progresses in a similarly eerie manner, and readers will be best to take their cues from the bleak and foreboding cover image rather than the more whimsical blurb. Henry does indeed one night to find himself peering at two doorknobs that have mushroomed through his bedroom wall, and discerns with quick erudition that the little doors to which each respective doorknob is attached lead somewhere. 100 Doorknobs, though, takes far more from L Frank Baums The Wizard of Oz than it does from the more saccharine works of Enid Blyton. As they uncover more and more of the creepy doors in question, including one bleak little cupboard that seems to promote discord and despair,'Henry and Henrietta are soon consumed by the need to determine how the interlinking cupboards function, and where they lead.
Their curious explorations, however, uncover little that is innocent and sweet, and Henry and Henrietta soon find themselves hunted by a frankly terrifying witch who, puppet master-like, draws on a variety of familiars to be her hands and ears, and most awfully, her eyes. But while the narrative does delve into some dark areas and work with some eerie plot points, Wilson doesnt bathe in the misery of his characters in the way that seems to be a trend in recent middle grade literature. Rather, he allows Henrys experiences to help draw Henry towards the independence so importantly linked with adolescence; similarly, he highlights the fact that children are resourceful enough to make high-stakes decisions and to work to atone for their mistakesa tongue-in-cheek dig at current overprotective parenting styles, perhaps.
The book is part of a trilogy, and it is perhaps because of this that the pacing at the beginning of the novel is somewhat slow. However, Wilsons prose is charming and witty, and itself should be enough to carry most readers through the more quiet and introspective moments of the novel. Some readers may struggle a little with the characters reactions to such minor matters as Henrys parents disappearances, or Uncle Franks true background, which Wilson deals with in an insouciant and jaunty mannerwhile this worked well enough for me, other readers may find it difficult to suspend disbelief.
If youre after a middle grade novel that puts an interesting and complex twist on the standard portal to another world trope, and thats replete with some clever writing and some creative invention, its well-worth picking up 100 Cupboards.
With thanks to Simple Schooling for the review copy.
See our review of Dandelion Fire.
Other books by ND Wilson you might like: