Another week, another set of book releases! Here are a few that have caught my eye.
A Secret Kept by Tatiana De Rosnay
Blurb: It all began with a simple seaside vacation, a brother and sister recapturing their childhood. Antoine Rey thought he had the perfect surprise for his sister Melanie's birthday: a weekend by the sea at Noirmoutier Island, where the pair spent many happy childhood summers playing on the beach. It had been too long, Antoine thought, since they'd returned to the island'over thirty years, since their mother died and the family holidays ceased. But the island's haunting beauty triggers more than happy memories; it reminds Melanie of something unexpected and deeply disturbing about their last island summer. When, on the drive home to Paris, she finally summons the courage to reveal what she knows to Antoine, her emotions overcome her and she loses control of the car. 'Recovering from the accident in a nearby hospital, Melanie tries to recall what caused her to crash. Antoine encounters an unexpected ally: sexy, streetwise Angele, a mortician who will teach him new meanings for the words life, love and death. Suddenly, however, the past comes swinging back at both siblings, burdened with a dark truth about their mother, Clarisse. Trapped in the wake of a shocking family secret shrouded by taboo, Antoine must confront his past and also his troubled relationships with his own children. How well does he really know his mother, his children, even himself? Suddenly fragile on all fronts as a son, a husband, a brother and a father, Antoine Rey will learn the truth about his family and himself the hard way.
____
Blurb: Tim Farnsworth is a handsome, healthy man, ageing with the grace of a matinee idol. He loves his work. He loves his family. He loves his kitchen. And then one day he stands up and walks out on all of it. He cannot stop walking. And, as his body propels him relentlessly forward, deep into the unfamiliar outer reaches of the city, he begins to realise he is moving further and further from his old self, seemingly unable to turn back and retrieve what he has lost. In his extraordinary novel Joshua Ferris delineates with great tenderness and a rare and inimitable wit the devastating story of a life taken for granted and what happens when that life is torn away without explanation or warning. The Unnamed is no less than a shimmering reflection of our times, of the lives we aspire to and the terrifying realisation of what is beyond our control.
____
Blurb: Hunter, Autumn, and Summer'three of Kristina Snows five children'live in different homes, with different guardians and different last names. They share only a predisposition for addiction and a host of troubled feelings toward the mother who barely knows them, a mother who has been riding with the monster, crank, for twenty years. Hunter is nineteen, angry, getting by in college with a job at a radio station, a girlfriend he loves in the only way he knows how, and the occasional party. Hes struggling to understand why his mother left him, when he unexpectedly meets his rapist father, and things get even more complicated. Autumn lives with her single aunt and alcoholic grandfather. When her aunt gets married, and the only family shes ever known crumbles, Autumns compulsive habits lead her to drink. And the consequences of her decisions suggest that theres more of Kristina in her than shed like to believe. Summer doesnt know about Hunter, Autumn, or their two youngest brothers, Donald and David. To her, family is only abuse at the hands of her fathers girlfriends and a slew of foster parents. Doubt and loneliness overwhelm her, and she, too, teeters on the edge of her mothers notorious legacy. As each searches for real love and true family, they find themselves pulled toward the one person who links them together'Kristina, Bree, mother, addict. But it is in each other, and in themselves, that they find the trust, the courage, the hope to break the cycle.
____
Rot and Ruin by Jonathan Maberry
Blurb: In the zombie-infested, post-apocalyptic America where Benny Imura lives, every teenager must find a job by the time they turn fifteen or get their rations cut in half. Benny doesnt want to apprentice as a zombie hunter with his boring older brother Tom, but he has no choice. He expects a tedious job whacking zoms for cash, but what he gets is a vocation that will teach him what it means to be human.
____
Things a Brother Knows by Dana Reinhardt
Blurb: Finally, Levi Katznelson's older brother, Boaz, has returned. Boaz was a high school star who had it all and gave it up to serve in a war Levi can't understand. Things have been on hold since Boaz left. With the help of his two best friends Levi has fumbled his way through high school, weary of his role as little brother to the hero.'But when Boaz walks through the front door after his tour of duty is over, Levi knows there's something wrong. Boaz is home, safe. But Levi knows that his brother is not the same.'Maybe things will never return to normal. Then Boaz leaves again, and this time Levi follows him, determined to understand who his brother was, who he has become, and how to bring him home again.'Award-winning author Dana Reinhardt introduces readers to Levi, who has never known what he believes, and whose journey reveals truths only a brother knows.
____
Wicked Appetite by Janet Evanovich
Blurb: Life in Marblehead has had a pleasant predictability, until Diesel arrives. Rumor has it that a collection of priceless ancient relics representing the Seven Deadly Sins have made their way to Boston's North Shore. Partnered with pastry chef Lizzie Tucker, Diesel bullies and charms his way through historic Salem to track them down'and his criminal mastermind cousin Gerewulf Grimorie. The black-haired, black-hearted Wulf is on the hunt for the relic representing gluttony. Caught in a race against time, Diesel and Lizzie soon find out that more isn't always better, as they battle Wulf and the first of the deadly sins.'With delectable characters and non-stop thrills that have made Janet Evanovich a household name,'Wicked Appetite will leave you hungry for more.
____
Night Embrace by Sherrilyn Kenyon (rerelease)
Blurb: As an ancient Celtic warrior, Talon made one giant mistake' he killed the son of the war god Camulus. In anger and outrage, Camulus cursed him'Everyone Talon loved would die a horrible death in front of his eyes. But when Talon's clan slaughters his young sister while he watches, powerless to stop them, he sells his soul for vengeance against them. Two thousand years later in modern-day New Orleans, as part of the bargain he made, he's now an immortal protector who keeps mankind safe from the creatures who would prey on them. A life he's happy with until he meets Sunshine'an offbeat artist who reminds him what it's like to really live. Unfortunately for both of them, it's Mardi Gras, and New Orleans is teeming with a complex plot of ancient gods, including Camulus, who are now out to re-conquer the world. The gloves are off and it's time for a rematch with Talon out to save everyone, including the artist who makes him insane.
____
Fever of the Bone by Val McDermid
Blurb: You should have been a detective. If theres one thing the last year has proved, its how good you are at finding things out. Not simple things. Hard things. Things that nobody is supposed to be able to find out. Things that are buried so deep nobody even thinks twice about them. The sort of things that turn peoples lives inside out once theyre exposed. Meet Tony Hills most twisted adversary a killer with a shopping list of victims, a killer unmoved by youth and innocence, a killer driven by the most perverted of desires. The murder and mutilation of teenager Jennifer Maidment is horrific enough on its own. But its not long before Tony realises its just the start of a brutal and ruthless campaign thats targeting an apparently unconnected group of young people. Struggling with the newly-awakened ghosts of his own past and desperate for distraction in his work, Tony battles to find the answers that will give him personal and professional satisfaction in his most testing investigation yet.
____
The Good Daughters by Joyce Maynard
Blurb: They were born on the same day, in the same hospital, into families that could hardly have been less alike. Ruth is an artist and a romantic, with a rich and passionate imaginative life. Dana is a scientist and realist whose faith is firmly planted in what she can see or hear or touch. Yet these two very different women share the same struggle to make sense of their place in a world in which neither of them has ever truly felt she belonged. Told in the alternating voices of Ruth and Dana, The Good Daughters follows these birthday sisters as they make their way through the decades, from the 1950s to the present. Master storyteller Joyce Maynard chronicles the unlikely ways the two womens lives intersect from childhood and adolescence to first loves, first sex, marriage, and parenthood; from the deaths of parents to divorce, the loss of home, and the loss of a beloved partner until an unavoidable moment when a long-held secret from the past alters everything
___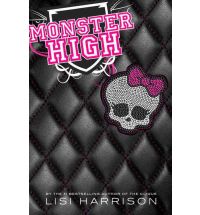 Blurb: The monster community has kept a low profile at the local high school, but when two new girls enroll, the town will never be the same. Created just fifteen days ago, Frankie Stein is psyched to trade her fathers formaldehyde-smelling basement lab for parties and prom.'But with a student body totally freaked out by rumors of monsters stalking the halls, Frankie learns that high school can be rough for a chic freak like her. She thinks she finds a friend in fellow new student Melody Carver-but can a normie be trusted with her big secret?
____
Blurb: Returning home from a visit to a client late one summer's evening, antiquarian bookseller Adam Snow takes a wrong turning and stumbles across the derelict old White House. Compelled by curiosity, he approaches the door, and, standing before the entrance feels the unmistakable sensation of a small hand creeping into his own, 'as if a child had taken hold of it'.'Intrigued by the encounter, he determines to learn more, and discovers that the owner's grandson had drowned tragically many years before. At first unperturbed by the odd experience, Snow begins to be plagued by haunting dreams, panic attacks, and more frequent visits from the small hand which become increasingly threatening and sinister '
____
Last Night at Chateau Marmont by Lauren Weisberger
Blurb:Heartbreak, headlines and Hermes welcome to Brookes new world! Brooke and Julian live a happy life in New York shes the breadwinner working two jobs and hes the struggling musician husband. Then Julian is discovered by a Sony exec and becomes an overnight success and their life changes for ever. Soon they are moving in exclusive circles, dining at the glitziest restaurants, attending the most outrageous parties in town and jetting off to the trendiest hotspots in LA. But Julians new-found fame means that Brooke must face the savage attentions of the ruthless paparazzi. And when a scandalous picture hits the front pages, Brookes world is turned upside down. Can her marriage survive the events of that fateful night at Chateau Marmont? Its time for Brooke to decide if shes going to sink or swim!
____
Mini Shopaholic by Sophie Kinsella
Becky Brandon thought motherhood would be a breeze and that having a daughter was a dream come true: a shopping friend for life! But it's trickier than she thought. Two-year-old Minnie has a quite different approach to shopping.'Minnie creates havoc everywhere she goes, from Harrods to her own christening. Her favorite word is 'Mine!' and she's even trying to get into eBay! On top of everything else, Becky and Luke are still living with her parents (the deal on house #4 has fallen through), when suddenly there's a huge financial crisis. 'With people having to 'cut back,' Becky decides to throw a surprise party for Luke to cheer everyone up. But when costs start to spiral out of control, she must decide whether to accept help from an unexpected source'and therefore run the risk of hurting the person she loves.'Will Becky be able to pull off the celebration of the year? Will she and Luke ever find a home of their own? Will Minnie ever learn to behave? And . . . most important . . . will Becky's secret wishes ever come true?