Raised by Wolves by Jennifer Lynne Barnes
Blurb: Pack life is about order, but Bryn is about to push all the limits, with hair-raising results. At the age of four, Bryn watched a rabid werewolf brutally murder her parents. Alone in the world, she was rescued and taken in by Callum, the alpha of his pack. Now fifteen, Bryns been as a human among werewolves, adhering to pack rule. Little fazes her. But the packs been keeping a secret, and when Bryn goes exploring against Callums orders, she finds Chase, a newly turned teen Were locked in a cage. Terrifying memories of the attack on her parents come flooding back. Bryn needs answers, and she needs Chase to get them. Suddenly, all allegiances to the pack no longer matter. Its Bryn and Chase against the werewolf world, whatever the consequences.
__
Blurb: Sick of hearing about vampires? So is Meena Harper.'But her bosses are making her write about them anyway, even though Meena doesnt believe in them.'Not that Meena isnt familiar with the supernatural. See, Meena Harper knows how youre going to die. (Not that youre going to believe her. No one ever does.)'But not even Meenas precognition can prepare her for what happens when she meetsthen makes the mistake of falling in love withLucien Antonescu, a modern-day prince with a bit of a dark side. Its a dark side a lot of people, like an ancient society of vampire hunters, would prefer to see him dead for.'The problem is, Luciens already dead. Maybe thats why hes the first guy Meenas ever met whom she could see herself having a future with. See, while Meenas always been able to see everyone elses future, shes never been able look into her own.'And while Lucien seems like everything Meena has ever dreamed of in a boyfriend, he might turn out to be more like a nightmare.'Now might be a good time for Meena to start learning to predict her own future. . . if she even has one.
__

Things I Know about Love by Kate Le Vann
Blurb: Things I know about love.
1.'People dont always tell you the truth about how they feel.
2.'Nothing that happens between two people is guaranteed to be private.
3.'I dont know if you ever get over having your heart broken.
Livia Stowes past experiences with love have been nothing but disappointing, but all that is about to change.' After years of illness, shes boarding a plane for the first time to spend the summer in Princeton, New Jersey, with her brother whos studying abroad.' This Brit is determined to make the most of her American summer and to record every moment of it in her private blog.'America is everything that Livias ever dreamed of.' And then she meets Adam.'Swept up in the promise of romance and the magical New York City that Adam shows her, Livia is smitten, but with all she knows about love, is Livia really ready to risk her heart again?
__
The Thousand Autumns of Jacob De Zoet by David Mitchell
In 1799, Jacob de Zoet disembarks on the tiny island of Dejima, the Dutch East India Company's remotest trading post in a Japan otherwise closed to the outside world. A junior clerk, his task is to uncover evidence of the previous Chief Resident's corruption. 'Cold-shouldered by his compatriots, Jacob earns the trust of a local interpreter and, more dangerously, becomes intrigued by a rare woman ' a midwife permitted to study on Dejima under the company physician. He cannot foresee how disastrously each will be betrayed by someone they trust, nor how intertwined and far-reaching the consequences. 'Duplicity and integrity, love and lust, guilt and faith, cold murder and strange immortality stalk the stage in this enthralling novel, which brings to vivid life the ordinary ' and extraordinary ' people caught up in a tectonic shift between East and West.
__
City of Ruin by Mark Charan Newton
Blurb: Villiren: a city of sin that is being torn apart from the inside. Hybrid creatures shamble through shadows and barely human gangs fight turf wars for control of the streets. Amidst this chaos, Commander Brynd Lathraea, commander of the Night Guard, must plan the defence of Viliren against a race that has broken through from some other realm and already slaughtered hundreds of thousands of the Empires people. When a Night Guard soldier goes missing, Brynd requests help from the recently arrived Inqusitor Jeryd. He discovers this is not the only disappearance the streets of Villiren. It seems that a serial killer of the most horrific kind is on the loose, taking hundreds of people from their own homes. A killer that cannot possibly be human. The entire population of Villiren must unite to face an impossible surge of violent and unnatural enemies or the city will fall. But how can anyone save a city that is already a ruin?
__
Empire of Light by Gary Gibson
Blurb: The nova war has begun to spread as the Emissaries wage a fierce and reckless campaign, encroaching on the area of space occupied by humanity and forcing the Shoal into a desperate retreat. While Dakota goes in search of the entity responsible for creating the Maker caches, Corso, left in charge of a fleet of human-piloted Magi ships, finds his authority crumbling in the face of assassination attempts and politically-motivated sabotage. If any hope exists at all, it lies in an abandoned asteroid a thousand light-years beyond the Consortiums borders, and with Ty Whitecloud, the only man alive with the skill to decipher the messages left behind by an ancient race of star travellers. Unfortunately Whitecloud is locked in a prison cell aboard a dying coreship adrift in space, awaiting execution for war crimes against Corsos own people. But if humanity has any hope of survival, Corso is going to have to find some way to keep him alive and thats only if Dakota doesnt kill him first
__
Claudias friend Kelly learns that shes an aunt when her estranged half-sister Erin shows up in desperate need of help. Erin and her husband have been living as member of The Temple of Brighter Light in an isolated compound. Now Erins husband and child have disappeared, leaving behind a cryptic note. Using her skills as a forensic handwriting expert, Claudia gains entry to the compound. She has only days to uncover the truth about Kellys missing niece before a childs life is written off for good
__
Delicious and Suspicious by Riley Adams
Blurb: Welcome to Aunt Pats barbecue restaurant, which serves up Memphis fun with a side order of murder. Recipes included. Named in honor of Lulu Taylors great aunt, Aunt Pats family-run Memphis restaurant is known for its ribs and spicy cornbread. But now the Taylor family will be known for murder Rebecca Adrian came to Memphis to suss out the best local BBQ for a prominent Cooking Channel Show. Trouble is, a mystery ingredient has killed her-and now all fingers are pointing to Aunt Pats restaurant. Horrified that her family is being accused of murder, Lulu fires up her investigative skills to solve the crime before someone else gets skewered.
__
A Glimpse of Evil by Victoria Laurie
As the FBIs newest Civilian Profiler, Abby Cooper is using her powers of intuition to help solve a backlog of the bureaus cold cases. But when shes the only one whos convinced that several separate cold cases are related, shell have to call on every intuitive bone in her body before shes the one put on ice
__
Blurb: On a rainy spring day in Seattle, young software tycoon Micah Taylor receives a cryptic, twenty-five-year-old letter from a great uncle he never knew. It claims a home awaits him on the Oregon coast that will turn his world inside out. Suspecting a prank, Micah arrives at Cannon Beach to discover a stunning brand new nine-thousand square foot house. And after meeting Sarah Sabin at a nearby ice cream shop, he has two reasons to visit the beach every weekend.'When bizarre things start happening in the rooms of the home, Micah suspects they have some connection to his enigmatic new friend, Rick, the town mechanic. But Rick will only say the house is spiritual. This unnerves Micah because his faith slipped away like the tide years ago, and he wants to keep it that way. But as he slowly discovers, the home isn't just spiritual, it's a physical manifestation of his soul, which God uses to heal Micah's darkest wounds and lead him into an astonishing new destiny.
__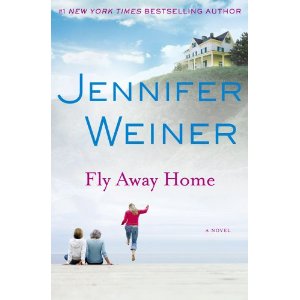 Fly Away Home by Jennifer Weiner
Blurb: Sometimes all you can do is fly away home . . .'When Sylvie Serfer met Richard Woodruff in law school, she had wild curls, wide hips, and lots of opinions. Decades later, Sylvie has remade herself as the ideal politician's wife'her hair dyed and straightened, her hippie-chick wardrobe replaced by tailored knit suits. At fifty-seven, she ruefully acknowledges that her job is staying twenty pounds thinner than she was in her twenties and tending to her husband, the senator.'Lizzie, the Woodruffs' younger daughter, is at twenty-four a recovering addict, whose mantra HALT (Hungry? Angry? Lonely? Tired?) helps her keep her life under control. Still, trouble always seems to find her. Her older sister, Diana, an emergency room physician, has everything Lizzie failed to achieve'a husband, a young son, the perfect home'and yet she's trapped in a loveless marriage. With temptation waiting in one of the ER's exam rooms, she finds herself craving more.'After Richard's extramarital affair makes headlines, the three women are drawn into the painful glare of the national spotlight. Once the press conference is over, each is forced to reconsider her life, who she is and who she is meant to be.
__
Still Missing by Chevy Stevens
Blurb: On the day she was abducted, Annie O'Sullivan, a 32-year-old realtor, had three goals'sell a house, forget about a recent argument with her mother, and be on time for dinner with her ever-patient boyfriend. The open house is slow, but when her last visitor pulls up in a van as shes about to leave, Annie thinks it just might be her lucky day after all.'Interwoven with the story of the year Annie spent as the captive of a psychopath in a remote mountain cabin, which unfolds through sessions with her psychiatrist, is a second narrative recounting events following her escape'her struggle to piece her shattered life back together and the ongoing police investigation into the identity of her captor.
__
The Pindar Diamond by Katie Hickman
Blurb: Venice, 1604.'When rumours of a spectacularly rare and priceless diamond begin to circulate amongst the gamblers and courtesans of the Venetian demi-monde, the Levant Company merchant, Paul Pindar, becomes convinced that the jewel is somehow linked to the fate of his former love, Celia Lamprey. As his obsession with the mysterious stone grows it becomes clear that there are other, more sinister forces at play. Is the diamond real, or is it just a trick to lure him to his ruin?
The Pindar Diamond moves from the canals of Venice to the coasts of Dalmatia, from a famed physic garden in the Venetian lagoon to the secret corridors of a convent a tale of lust, love, greed, wealth and danger set among the Levant traders in the early years of the seventeenth century. Written in the exquisitely evocative style that is Katie Hickmans trademark, this is a gripping and superbly told story that goes as deeply into history as into the human heart.
__
Freeing Grace by Charity Norman
Warm, insightful and poignant,'Freeing Grace tells the story of David, curate of an inner-city parish, and Leila, his Nigerian-born wife. Unable to have children of their own, theyre desperate for a family. When they finally hear theyve been approved to adopt a baby, Grace, they can scarcely believe their good fortune.'Theres just one problem for which David and Leila cannot plan; Graces birth family the enigmatic, charismatic Harrisons. Enlisting their friend, the feckless, charming New Zealander, Jake Kelly whos half in love with all of them, one way or another the Harrisons send him on a quest that will force a confrontation. Ultimately, each has a terrible decision to make.
Everyone only wants whats best for Grace but who can say exactly what that is?