Ethnicity in YA literature has been a talking point of late, with discussions about howand indeed even to what degreedifferent minority groups are represented. Given that my own children (one day!) will be half-Chinese, Id love to ensure that they have access to books that depict a range of different cultures, including those that reflect their own background. With this in mind,'I thought I might hunt down some young adult novels with Asian protagonists or main characters.
The list below is in no way exhaustive, and mostly focuses on characters whose background is from East or South-East Asia, or fantasy worlds that draw heavily on these cultures. Feel free to add your own suggestions in the comments, and Ill incorporate them into the post.
Silver Phoenix by Cindy Pon
Blurb: Ai Ling has been marked by the Immortals. She'll never be content to sit and wait for destiny'for love'to find her. So when she feels a power awakening within her, and her father goes missing, she sets out on a'quest'that defies all expectations.'Her newfound ability to reach into the spirits of others will serve her well against the monstrous demon she faces. But what will happen when she meets Chen Yong, the striking young man whose destiny is intertwined with her own?
__
A Single Shard by Linda Sue Park
Blurb: Tree-ear, an orphan boy, and his elderly and lame companion, Crane-man, live under a bridge in the small potters' village of Ch'ul'po. Though homeless and hungry, Crane-man has taught Tree-ear survival skills and values like courage, honesty, and hard work. When Tree-ear accidentally destroys a piece of pottery created by Min, the best potter in the village, he willingly pays his debt by working for the artist. Tree-ear's greatest hope is to learn from Min and to someday create pottery with his own hands. Though Min ignores Tree-ear, the boy remains loyal and offers to deliver Min's work to the royal court in Songdo. Along the way, Tree-ear is robbed and the pottery is shattered, but Tree-ear is so sure that Min's work is worthy of a royal commission that he continues his journey and delivers but a single shard.
__
American Born Chinese by Gene Luen Yang
Blurb: Jin Wang starts at a new school where he's the only Chinese-American student. When a boy from Taiwan joins his class, Jin doesn't want to be associated with an FOB like him. Jin just wants to be an all-American boy, because he's in love with an all-American girl. Danny is an all-American boy: great at basketball, popular with the girls. But his obnoxious Chinese cousin Chin-Kee's annual visit is such a disaster that it ruins Danny's reputation at school, leaving him with no choice but to transfer somewhere he can start all over again. The Monkey King has lived for thousands of years and mastered the arts of kung fu and the heavenly disciplines. He's ready to join the ranks of the immortal gods in heaven. But there's no place in heaven for a monkey. Each of these characters cannot help himself alone, but how can they possibly help each other? They're going to have to find a way'if they want fix the disasters their lives have become.
__
Seeing Emily by Joyce Lee Wong
Blurb: In the style of David Levithans The Realm of Possibility and Sonya Sones What My Mother Doesnt Know, this free verse novel introduces readers to sixteen-year-old Emily, one of three Asian students at her high school in Richmond, Virginia, and the only child of protective, ambitious parents. She loves her parents and has always strived to please them, but her interest in a sexy new student, her growing passion for art, and her need to break away without breaking her tightly-knit family apart, force Emily to create a web of lies that ultimately traps her just as tightly as her circumstances. Through her art she finds a key to freedom and a new understanding of her place in the world.
Joyce Lee Wongs dazzling debut addresses the complexities of the contemporary Asian American experience, the pressures of American high school, and the age-old clash between teens and parents. This touching novel takes readers on a journey in which parents, peers and readers ultimately find new ways of seeing Emily.
__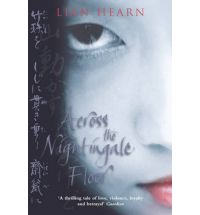 Across the Nightingale Floor by Lian Hearn (read our review)
In his palace at Inuyama, Lord Iida Sadamu, warlord of the Tohan clan, surveys his famous nightingale floor. Its surface sings at the tread of every human foot, and no assassin can cross it. But 16-year-old Otori Takeo, his family murdered by Iidas warriors, has the magical skills of the Tribe preternatural hearing, invisibility, a second self that enable him to enter the lair of the Tohan. He has love in his heart and death at his fingertipsThe stunningly powerful bestseller, Across the Nightingale Floor, is an epic story for readers young and old. Set in a mythical, feudal, Japanese land, a world both beautiful and cruel, the intense love story of two young people takes place against a background of warring clans, secret alliances, high honour and lightning swordplay.
__
Dragon Keeper by Carole Wilkinson (our review forthcoming)
Blurb: Ancient China, Han Dynasty. A slave girl saves the life of an ageing dragon and escapes her brutal master. Pursued by a ruthless dragon hunter, the girl and the dragon make an epic journey across China carrying a mysterious stone that must be protected.
This is the story of a young slave girl who believes she is not worthy of a name but finds within herself the strength and courage to make this perilous journey ' and do what must be done.
__
Millicent Min, Girl Genius and Stanford Wong Flunks Big Time by Lisa Yee
Blurb for Millicent Min, Girl Genius: Millicent Min is having a bad summer. Her fellow high school students hate her for setting the curve. Her fellow 11-year-olds hate her for going to high school. And her mother has arranged for her to tutor Stanford Wong, the poster boy for Chinese geekdom.'But then Millie meets Emily. Emily doesnt know Millicents IQ score. She actually thinks Millie is cool. And if Millie can hide her awards, ignore her grandmothers advice, swear her parents to silence, blackmail Stanford, and keep all her lies straight, she just might make her first friend.
Blurb for Stanford Wong Flunks Big Time: We interrupt your lives to announce Stanford Wong Has Flunked Sixth Grade!!! Hes used to being a hero on the basketball court, where hes the first sixth-grader ever to make the A-Team, and to just getting by in class, no matter how much he disappoints his academically obsessed father.'But when he flunks English flunks it big-time and learns hell have to trade baskeball camp for summer school, Stanford freaks out. But Stanford has to keep going anyway, to make the grade, hold onto his friends, and be true to himself. And how he succeeds if he succeds is the subject of this funny, gross, bittersweet, and surprising novel from Lisa Yee.
__
Level Up by'Gene Luen Yang
Smackdown!'Video Games vs. Medical School!'Which will win the battle for our hero's attention in Gene Luen Yang's new graphic novel?'Dennis Ouyang lives in the shadow of his parents' high expectations.'They'want him to go to med school and become a doctor.'Dennis'just wants to play video games'and he might actually be good enough to do it professionally.'But four adorable, bossy, and occasionally terrifying angels arrive just in time to lead Dennis back onto the straight and narrow: the path to gastroenterology. It's all part of the plan, they tell him. But is it? This powerful piece of magical realism brings into sharp relief the conflict many teens face between pursuing their dreams and living their parents'.
__
1001 Cranesby Naomi Hirahara
Blurb: When 12-year-old Angela Kato arrives in L.A., the last thing she wants to do is spend the entire summer with her grandparents. But in the Kato family, one is never permitted to complain. Grandma Michi and Aunt Janet put Angela to work in their flower shop, folding origami and creating 1001 crane displays for newlyweds. At first, Angela learns the trade begrudgingly. But when her folding skills improve and her relationships with family and friends grow, Angela is able to cope with her troubles, especially her parents' impending divorce.
__
Girl Overboard by Justina Chen Headley
Blurb: The worst thing about having it all is having to deal with it all the good, the bad, and the just plain weird. Everybody thinks Syrah is the golden girl. After all, her father is Ethan Cheng, billionaire, and she has everything any kid could possibly desire, right down to a waterfront mansion, jet plane, and custom-designed snowboards. But as Syrah reveals in her manga journal, most of what glitters in her life is fools gold. Her half-sibs hate her, her best friends girlfriend is threatening their friendship, and a snowboarding accident exiles her from the mountains the one place where she feels free and accepted for who she is, not what she has. After Syrah rehabs her busted-up knee and broken heart, makes a new friend, uncovers a family secret, and discovers a way to help a young girl with leukemia, she is finally able to realize her real worth.
__
Great Call of China by Cynthea Liu
Blurb: Chinese-born Cece was adopted when she was two years old by her American parents. Living in Texas, shes bored of her ho-hum high school and dull job. So when she learns about the S.A.S.S. program to Xian, China, she jumps at the chance. Shell be able to learn about her passion anthropology and it will give her the opportunity to explore her roots. But when she arrives, she receives quite a culture shock. And the closer she comes to finding out about her birth parents, the more apprehensive she gets. Enter Will, the cute guy she first meets on the plane. He and Cece really connect during the program. But can he help her get accustomed to a culture she should already know about, or will she leave China without the answers shes been looking for?
__
The Fold by An Na
Blurb: Joyce never used to care that much about how she looked, but that was before she met JFK John Ford Kang, the most gorgeous guy in school. And it doesnt help that shes constantly being compared to her beautiful older sister, Helen. Then her rich plastic-surgery-addict aunt offers Joyce a gift to fix a part of herself shed never realized needed fixing her eyes. Joyce has heard of the fold surgery a common procedure meant to make Asian womens eyes seem prettier and more American but shes not sure she wants to go through with it. Her friend Gina cant believe she isnt thrilled. After all, the plastic surgeon has shown Joyce that her new eyes will make her look just like Helen but is that necessarily a good thing?
__
Year of Impossible Goodbyes by Sook Nyul Choi
Blurb: This autobiographical story tells of ten-year-old Sookan and her familys suffering and humiliation in Korea, first under Japanese rule and after the Russians invade, and of a harrowing escape to South Korea.
__
All the Broken Pieces by Ann E Burg
Blurb: Two years after being airlifted out of war-torn Vietnam, Matt Pin is haunted: by bombs that fell like dead crows, by smoke and death, by the brother ' and the terrible secret ' he left behind.' Now in a loving adoptive home in the United States, over the course of a baseball season, a series of profound events forces him to confront his past, and slowly, sometimes painfully, heal.
By turns harrowing, dreamlike, sad, and triumphant, this searing novel in verse reveals an unforgettable and little-seen perspective on the Vietnam War and its survivors.
__
Outside Beauty by Cynthia Kadohata
Blurb: Theres only one way Shelby and her sisters can describe their mother: Shes a sexpot. Helen Kimura collects men (and loans, spending money, and gifts of all kinds) from all over the country. Sure, shes not your typical role model, but shes also not just a pretty face and nail polish. She is confident and brave; she lives life on her own terms, and her four daughters simply adore her. These girls have been raised outside the traditional boundaries. They know how to take the back exit. They know how to dodge crazed lovers in highway car chases. They do not, however, know how to function without one another.
Then suddenly they must. A late-night phone call unexpectedly shreds the family apart, catapulting the girls across the country to live with their respective fathers. But these strong-willed sisters are, like their mother, determined to live life on their own terms, and what they do to pull their family back together is nothing short of beautiful.
__
Hiroshima Dreams by Kelly Easton
Blurb: Lin cant explain the knowledge she has of the future, of what people will say or what will happen. Its a gift she shares with Obaasan, her grandmother, who has recently come from Japan to live with Lins family. But seeing the future is more than knowing whether or not a boy will call. What is Lin to make of the visions she has of a day long ago, when the atomic bomb was dropped on Hiroshima?
Acclaimed author Kelly Eastons poignant coming-of-age novel about a girl with psychic abilities is rich in imagery and memorable characters.
__
Dragonwings by Lawrence Yep
Moon shadow is eight years old when he sails from China to join his father, Windrider, in America. Windrider lives in San Francisco and makes his living doing laundry. Father and son have never met.
But Moon Shadow grows to love and respect his father and to believe in his wonderful dream. And Windrider, with Moon Shadows help is willing to endure the mockery of the other Chinese, the poverty, the separation from his wife and countryeven the great earthquaketo make his dream come true.
__
Two Pearls of Wisdom by Alison Goodman
Blurb: Eon is a potential Dragoneye, able to manipulate wind and water to nurture and protect the land. But Eon also has a dark secret. He is really Eona, found by a power-hungry master of the Dragon Magic in a search for the new Dragoneye. Because females are forbidden to practise the Art, Eona endures years of study concealed as a boy. Eona becomes Eon, and a dangerous gamble is put into play. Eons unprecedented display of skill at the Dragoneye ceremony places him in the centre of a power struggle between the Emperor and his High Lord brother. The Emperor immediately summons Eon to court to protect his son and heir. Quickly learning to navigate the treacherous court politics, Eon makes some unexpected alliances, and a deadly enemy in a Dragoneye turned traitor. Based on the ancient lores of Chinese astrology and Feng Shui, The Two Pearls of Wisdom and its sequel The Necklace of the Gods are compelling novels set in a world filled with identities, dangerous politics and sexual intrigue.
__
And some interesting links:
Article:'Teens First, Asian Americans Second
Essay: Female Protagonists in Multicultural Young Adult Literature
Blog post: Asian Americans on YA book covers
Website: AsianAmericanBooks.com