Our lists of books set in Ancient Egypt and Ancient Greece have been astonishingly popular, so I thought it was time that I put together a similar list of books set in Ancient Roman times. As always, this list is in no way comprehensive, so feel free to add your suggestions in the comments!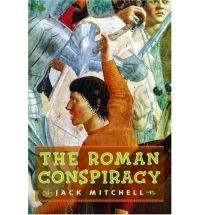 The Roman Conspiracy by Jack Mitchell
Blurb: Young Aulus Spurinna's homeland, Etruria, has fallen prey to a rebel league of soldiers lead by Manlius, an experienced and dangerous Roman warrior. When his uncle dies under a cloud of mystery, Spurinna must take his uncle's place as the landowner of all Etruria. In order to save his homeland from Manlius, Spurinna travels to Rome to seek help from a Consul, Cicero. On his journey, Spurinna teams up with Cicero's daughter, Tullia, and together they unravel a conspiracy that could overthrow the Roman Empire. Spurinna soon finds himself thrust into the midst of a deadly battle ' and a fight to save his life, his home, and Rome.
See also: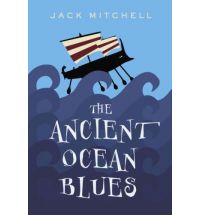 _______________________
The Thieves of Ostia by Caroline Lawrence
Blurb: It is A.D. 79, and Flavia Gemina, daughter of a successful Roman sea captain, is about to celebrate her birthday. Then the dogs in her neighborhood start dying mysteriously, and there are rumors of burglary in the houses on Flavias street. Set in the graveyards, houses, and alleyways of an ancient Roman city, heres the first in a series of fast-paced, informative, and satisfying mysteries.
________________________________________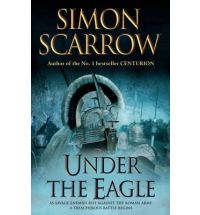 Under the Eagle by Simon Scarrow
Blurb: It is 42 AD, and Cato has just arrived in Germany as a new recruit to the tough Second Legion. Cato is assigned to the unit of Centurion Macro a fearless, battle-scarred veteran. Cato will have to prove himself in the adventures that lie ahead. In a bloody skirmish with the local German tribes, Cato gets his chance to show that he's more than a callow youth. But then the men discover that the legion's next campaign will take them to a land of unparalleled barbarity Britain.
See also:
____________________________________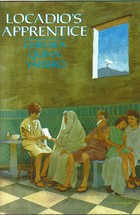 Locadios Apprentice by Chalsea Quinn Yarbro
Blurb: A young Pompeiian boy becomes apprenticed to a physician as the volcano Versuvius smoulders in the background.
_____________________________________
I Am Spartapuss by Robin Price (see our review)
Blurb: Historically accurate and full of enchanting wordplay, this fanciful tale set in Rome in 36 AD follows the adventures of Spartapuss, via his diary entries, as the Feline Empire falls into the hands of Emperor Tiberius tyrannical heir, Catligula. When someone scrawls a nasty poem about the royal felines on Spatopias vomitorium walls during a visit to the spa from Catligula and his mother Mewlia, Spartapuss is held responsible. Fortune takes a wicked turn when hes thrown in jail and transferred to a gladiator training school. When the Emperor goes on an endless vacation, the foul Catligula takes control of the Empire and creates new laws. Now Spartapusss only chance for freedom lies in his ability to defeat his opponents in the gladiator arena.
See also:
______________________________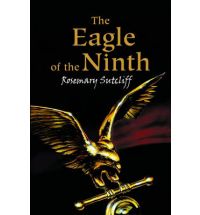 The Eagle of the Ninth by Rosemary Sutcliff
Blurb: The Ninth Legion marched into the mists of northern Britain-and they were never seen again. Four thousand men disappeared and their eagle standard was lost. Its a mystery thats never been solved, until now So begins the story of The Eagle of the Ninth, set against a backdrop of Roman Britain and featuring a young soldier, Marcus Aquila, who sets off into the unknown north to find out what happened to the lost legion.
See also:
_________________________________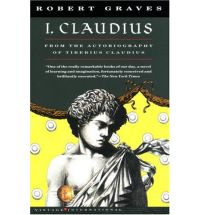 Blurb: Considered an idiot because of his physical infirmities, Claudius survived the intrigues and poisonings of the reigns of Augustus, Tiberius, and the Mad Caligula to become emperor in 41 A.D. Historical novel set in 1st-century-AD Rome by Robert Graves, published in 1934. The book is written as an autobiographical memoir by Roman emperor Claudius. Physically weak, afflicted with stammering, and inclined to drool, Claudius is an embarrassment to his family and is shunted to the background of imperial affairs. The benefits of his seeming ineffectuality are twofold: he becomes a scholar and historian, and he is spared the worst cruelties inflicted on the imperial family by its own members during the reigns of Augustus, Tiberius, and Caligula. Palace intrigues and murders surround him. Claudius informal narration serves to emphasize the banality of the imperial familys endless greed and lust. The story concludes with Claudius ascending to the imperial throne.
See also: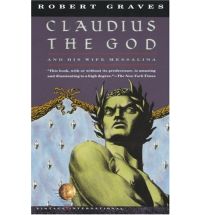 __________________________________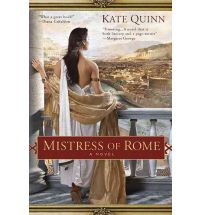 Mistress of Rome by Kate Quinn (not strictly YA, but has a teen protagonist)
Blurb: Thea is a slave girl from Judaea, passionate, musical, and guarded. Purchased as a toy for the spiteful heiress Lepida Pollia, Thea will become her mistresss rival for the love of Arius the Barbarian, Romes newest and most savage gladiator. His love brings Thea the first happiness of her life-that is quickly ended when a jealous Lepida tears them apart. As Lepida goes on to wreak havoc in the life of a new husband and his family, Thea remakes herself as a polished singer for Romes aristocrats. Unwittingly, she attracts another admirer in the charismatic Emperor of Rome. But Domitians games have a darker side, and Thea finds herself fighting for both soul and sanity. Many have tried to destroy the Emperor: a vengeful gladiator, an upright senator, a tormented soldier, a Vestal Virgin. But in the end, the life of the brilliant and paranoid Domitian lies in the hands of one woman: the Emperors mistress.
See also: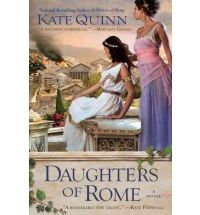 ___________________________________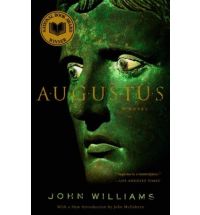 Augustus by John Edward Williams
Blurb: A brilliant and beautifully written novel in the tradition of Robert Graves''I, Claudius, Augustus is a sweeping narrative that brings vividly to life a compelling cast of historical figures through their letters, dispatches, and memoirs.'A mere eighteen years of age when his uncle, Julius Caesar, is murdered, Octavius Caesar prematurely inherits rule of the Roman Republic. Surrounded by men who are jockeying for power'Cicero, Brutus, Cassius, and Mark Antony'young Octavius must work against the powerful Roman political machinations to claim his destiny as first Roman emperor. Sprung from meticulous research and the pen of a true poet,'Augustus tells the story of one man's dream to liberate a corrupt Rome from the fancy of the capriciously crooked and the wildly wealthy.
_________________________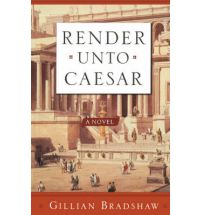 Render Unto Caesar by Gillian Bradshaw
Blurb: Hermogenes, although descended from a race of heroes, is content to run his business and leave valour to the legends. But when his father is killed, the young Greek is stirred to seek retribution. In Rome, corruption and prejudice are far easier found than justice. Hermogenes may be a citizen in name, but he is branded a barbarian by those who are Roman by birth and the man who owes him money is a respected member of the citys government. As Hermogenes is drawn deeper into a maelstrom of political intrigue, he gains a formidable gladiator as his ally, a woman with scars on her heart as well as her body. Together they plot to defeat the consul at his own game. But how far is Hermogenes, willing to go to satisfy his own honour?
_______________________________
Blurb:'A fearless Roman gladiator. A reckless twenty-first-century girl. A mysterious virus unites them . . .152 AD.'Sethos Leontis, a skilled and mesmerising fighter, is unexpectedly wounded and lies dangerously close to death.'2012 AD.'Eva is brilliant but troubled. Starting her new life at a school for the gifted, a single moment in the lab has terrifying results.'An extraordinary link brings Sethos and Eva together, but it could force them apart because the fever that grips them cannot be cured and falling in love could be lethal . . .'Can love survive when worlds collide and threaten time itself?
_______________________________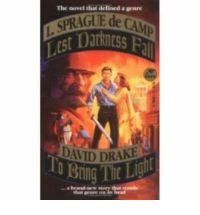 Lest Darkness Fall by L Sprague de Camp
Blurb: When am I? Padway asked himself after the lightning-flash knocked him down. He knew where he wasRome. He was there to study archaeology, and even though the lightning had left him dazed, he could see the familiar Roman buildings. But the buildings looked newer and the crowds in the street were wearing tunics, not suits! And a rich barnyard smell had replaced the gasoline-and-garlic aroma of modern Rome. So, when was he? And he was suddenly cold with fear of the answer