To our surprise, our recent list of YA books based on Greek mythology has become one of the most popular on the site. Given that we have particularly fond memories of burying ourselves in books about Ancient Egypt and Egyptian mythology (and virtually anything containing mummies), we thought it might be a good idea to do a round up of some young adult and middle grade novels dealing with these themes.
Below is a brief list of books that teens and young readers might enjoy. As always, its in no way comprehensive, so if weve missed a major work, or even just a fun one, please leave a comment or send us an email, and well add it to the list.
Sphinxs Princess by Esther Friesner
Blurb:'Nefertiti may be the dutiful daughter of a commoner, but her inquisitive mind often gets her into situations that are far from ordinary, like receiving secret lessons from a scribe. And she's the kind of girl who acts first, and apologizes later whenever she witnesses injustice or cruelty. But she is also extraordinarily beautiful. And news of her striking beauty and impulsive behavior attracts the attention of her aunt, the manipulative Queen Tiye, who sees Nefertiti as an ideal pawn in her desire for power. Even though Nefertiti is taken from her beloved family and forced into a life filled with courtly intrigue and danger, her spirit and mind will not rest. She continues to challenge herself and the boundaries of ancient Egyptian society.
See also:
______
Cleopatras Moon by Vicky Alvear Shecter
Selene has grown up in a palace on the Nile with her parents, Cleopatra & Mark Antonythe most brilliant, powerful rulers on earth. But the jealous Roman Emperor Octavianus wants Egypt for himself, & when war finally comes, Selene faces the loss of all shes ever loved. Forced to build a new life in Octavianuss household in Rome, she finds herself torn between two young men and two possible destiniesuntil she reaches out to claim her own.'This stunning novel brings to life the personalities & passions of one of the greatest dramas in history, & offers a wonderful new heroine in Selene.
________
The Hippopotamus Marsh'by Pauline Gedge
Seqenenra Tao, Prince of Weset, leads a revolt against the alien Hyksos pharaohs. His provincial aristocratic family is accustomed to a life of straitened gentility. But when the prince decides to rebel they must risk all, even life itself, to restore Egyptians and their gods to glory. The Hippopotamus Marsh begins a trilogy that brings to vivid life the passions and intrigues that ushered in the great Eighteenth Dynasty.
See also:
_______
The Glittering Eye'by LJ Adlington
Shabti wakes in a barley field with nothing but a hoe in his hand and a head full of fragmented memories. A vicious master torments his days as he works'in the fields with no way of escape'until a hole suspended in mid-air leads him'to a room where two shiny gold eyes glitter'back at him. Who is he? And'to where does this room lead? Amy arrives in Egypt to join her archaeologist father on an excavation. All around her tombs are unearthed, opened, and entered. Left to her own devices, Amy discovers a rock'but not just any rock. A great tawny cat stares back at her from its smooth surface, its shiny gold eyes glittering. Where did it come from? And what should she do now? When past, present, and future collide, its clear that some things are best left buried.
______
Wrapped'by Jennifer Bradbury
Agnes Wilkins is standing in front of an Egyptian mummy, about to make the first cut into the wrappings, about to unlock ancient (and not-so-ancient) history. Maybe you think this girl is wearing a pith helmet with antique dust swirling around her. Maybe you think she is a young Egyptologist who has arrived in Cairo on camelback. Maybe she would like to think that too. Agnes Wilkins dreams of adventures that reach beyond the garden walls, but reality for a seventeen-year-old debutante in 1815 London does not allow for camels'or dust, even. No, Agnes can only see a mummy when she is wearing a new silk gown and standing on the verdant lawns of Lord Showalter's estate, with chaperones fussing about and strolling sitar players straining to create an exotic 'atmosphere' for the first party of the season. An unwrapping. This is the start of it all, Agnes's debut season, the pretty girl parade that offers only ever-shrinking options: home, husband, and high society. It's also the start of something else, because the mummy Agnes unwraps isn't just a mummy. It's a host for a secret that could unravel a new destiny'unleashing mystery, an international intrigue, and possibly a curse in the bargain.'Get wrapped up in the adventure . . . but keep your wits about you, dear Agnes.
______
Ramose: Prince in Exile by Carole Wilkinson
Blurb: Someone is trying to kill Prince Ramose. If they think he is dead, he will be safe.'Pampered, selfish and very much alive, Prince Ramose lives in disguise in the Valley of the Tombs.'How will this spoilt prince survive such a brutal place?'Can he outwit those who want him dead?
See also:

____
Pharaoh: The Boy Who Conquered the Nile by Jackie French
Blurb: Prince Narmer, first in line of succession, meets an oracle who changes his life. Ousted from the line by a disfiguring struggle with a crocodile, Narmer travels, learning much about faraway lands and his place in the world. Most of all, he learns what it means to be a true king and leader.
_____
Orphan of the Sun'by Gill Harvey
Meryt-Re should consider herself lucky: her aunt and uncle take good care of her, a boy in the village wants to marry her, and the village itself is favored by the kings because it is home to the builders of the great Egyptian tombs. But as a teenage girl in Ancient Egypt, Meryt struggles with an uncle who wants to get rid of her, a village in turmoil over its leadership, and people not being quite as honest as they seem. Suspected of witchery and assumed to be ungrateful, Meryt must find her own way to happiness as she uncovers mysteries the rest of the village is too preoccupied to acknowledge.
____
Shadow Hawk'by Andre Norton
1590 B.C: Rahotep, captain of the Nubian Desert Scouts, is heir to the Nome of the Striking Hawk, which, with all of Egypt, has been under the harsh rule of the Hyksos. Accused of a crime he didnt commit and driven out of Nubia by his scheming half-brother, Rahotep flees north to Thebes, accompanied only by a loyal band of Nubian archers. Here he takes refuge in the court of the Pharaoh Sekenenre III, who is determined to free Egypt. Treachery throws Rahotep into a cell beneath the Temple of Anubis. He must escape, not only to prove his innocence, but also to join in a mission and a battle upon which hangs the freedom of Egypt from the rule of the invaders.
____
Tut Tut: The Time Warp Trio Series by John Scieszka
Amazon.com blurb: A delightful childrens story about Ancient Egypt and time travel. In the tradition of all books by Scieszka and Smith, although it is perfect for ages 6-10, adults will get a smile too from the offbeat humor and weird predicaments in which the Time Warp Trio find themselves.
____
The Reluctant God by Pamela Service
Blurb: While his brother prepares to mount the throne of Egypt as the next member of the Twelfth Dynasty, the teenage prince Ameni is sealed in a secret tomb in a state of suspended animation, to be revived four thousand years later by the fourteen-year-old daughter of an archeologist.
____
The Red Pyramid by Rick Riordan
Blurb: Since their mother's death, Carter and Sadie have become near strangers. While Sadie has lived with her grandparents in London, her brother has traveled the world with their father, the brilliant Egyptologist, Dr. Julius Kane.' One night, Dr. Kane brings the siblings together for a research experiment at the British Museum, where he hopes to set things right for his family. Instead, he unleashes the Egyptian god Set, who banishes him to oblivion and forces the children to flee for their lives.' Soon, Sadie and Carter discover that the gods of Egypt are waking, and the worst of themSethas his sights on the Kanes. To stop him, the siblings embark on a dangerous journey across the globea quest that brings them ever closer to the truth about their family, and their links to a secret order that has existed since the time of the pharaohs.
____
Theodosia and the Serpents of Chaos by R L LaFevers (see our review; see also our review of Theodosia and the Staff of Osiris)
Blurb:'Theodosia Throckmorton has her hands full at the Museum of Legends and Antiquities in London. Her father may be head curator, but it is Theo'and only Theo'who is able to see all the black magic and ancient curses that still cling to the artifacts in the museum. Sneaking behind her father's back, Theo uses old, nearly forgotten Egyptian magic to remove the curses and protect her father and the rest of the museum employees from the ancient, sinister forces that lurk in the museum's dark hallways.
See also:
____
Pharoahs Daughter by Julius Lester
Blurb: Born into slavery, adopted as an infant by a princess, and raised in the palace of mighty Pharaoh, Moses struggles to define himself. And so do the three women who love him: his own embittered mother, forced to give him up by Pharaohs decree; the Egyptian princess who defies her father and raises Moses as her own child; and his headstrong sister Almah, who discovers a greater kinship with the Egyptian deities than with her own God of the Hebrews. Told by Moses and his sister Almah from alternating points of view, this stunning novel by Newbery Honor-author Julius Lester probes questions of identity, faith, and destiny.
____
The Egypt Game by Zilpha Keatley Snyder
Blurb: The first time Melanie Ross meets April Hall, shes not sure theyll have anything in common. But she soon discovers that they both love anything to do with ancient Egypt. When they stumble upon a deserted storage yard behind the A-Z Antinques and Curio Shop, Melanie and April decide its the perfect sport for the Egypt Game. Before long there are six Egyptians instead of two. After school and on weekends they all meet to wear costumes, hold ceremonies, and work on their secret code. Everyone thinks its just a game, until strange things begin happening to the players. Has the Egypt Game gone too far?
____
Akhenaten: Son of the Sun by Moyra Caldecott
Blurb: I tell you this three millennia after these events took place. Mark them well. They did not end with my death, and they will not end with yours. In ancient Egypt during the magnificent eighteenth dynasty the Pharaoh Akhenaten and his queen, the strong and beautiful Nefertiti, are engaged in a dramatic battle against the wealthy, corrupt and dangerously powerful priests of Amun. Haunting and full of surprises, Akhenaten: Son of the Sun gives a fascinating glimpse into an ancient civilisation. It is a story about hate and love, despair and hope, but more than that it is the story of extraordinary spiritual and psychic powers being tested to their limits. Akhenaten: Son Of The Sun is part of Moyra Caldecotts acclaimed Egyptian sequence, which also includes Hatshepsut: Daughter of Amun and Tutankhamun and the Daughter of Ra. The fourth book of the sequence, The Ghost of Akhenaten, is set in the present and carries on the theme. Chronologically, Akhenaten: Son of the Sun is the second in the sequence, although it was written first.
See also:
____
A Place in the Sun by Jill Rubalcaba
Blurb: When Senmut, a young stone sculptor, is exiled for life to the gold mines of Nubia, he must count on all his skills in order to survive. A novel of bristling intrigue, set against the dramatic historical backdrop of 13th century b.c. Egypt.
See also:
____
The Ugly Goddess by Elsa Marston
Blurb: Resigned to her fate as consort of the god Amun, 14-year-old Princess Meret prepares to be confined in a temple for the rest of her life, with only a statue of the ugly goddess Taweret for company. Meanwhile, a young Greek soldier Hector determines to save her from that fate in the hopes of winning her love. And when the magical statue of the goddess disappears, it is the lowly shopsweeper Bata who finds it. When the three meet and join forces in a desperate race across the desert, they find that the very security of Egypt is at stake. Although only Bata knows the secret of the statues powers, the wry and long-suffering goddess uses all her wisdom and humor to guide the young people in their quest. With its fast-paced plot, exciting adventures and escapes, and hint of romance, the stories of these three very different young people who come together in ancient Egypt make this a book that appeals to boys and girls alike.
____
The Akhenaten Adventure by Philip Kerr
Blurb: Meet John and Philippa Gaunt, twelve-year-old twins who one day discover themselves to be descended from a long line of djinn. All of a sudden, they have the power to grant wishes, travel to extraordinary places, and make people and objects disappear.'Luckily, the twins are introduced to their eccentric djinn-uncle Nimrod, who will teach them how to harness their newly found power. And not a moment too soon . . . since John and Philippa are about to embark on a search to locate a monstrous pharaoh named Akhenaten and his eerie tomb.
____
Channeling Cleopatra by Elizabeth Ann Scarborough
Blurb: Powerful. Beautiful. Seductive. Cleopatra had it all. And soon, through genetic blending, any woman will be able to share her secrets, her wiles, her way with men. First, though, her genetic material must be found. Forensic anthropologist Leda Hubbard jumps at the chance to be the first person to find Cleopatras final resting place. And the chase is on-for whomever gets access to Cleopatras genetic material will also gain access to all of her knowledge. And though some want to channel Cleopatra for love, others have far more sinister motives.
____
The Egyptian Box by Jane Louise Curry
Blurb: Tee (short for Leticia) Woodie and her family have moved into a big, old house that is a part of her fathers inheritance from Great-uncle Sebastian. While exploring the contents of Great-uncles antiques-and-junk store, they find a parcel marked FOR DEAR LETICIA, MY SHABTI BOX. The decorated Egyptian box inside holds the shabti, a colorful wooden figure of a girl in painted mummy wrappings from the waist down. The writings on those wrappings are ancient Egyptian hieroglyphics. Charles, Tees younger and very curious brother, borrows the figure and uses the Internet to discover what sounds the old hieroglyphics stand for. When he reads the Egyptian words aloud to Tee, strange things begin to happen.'That evening, slow in answering her fathers call to come and dry the dishes, Tee reaches the kitchen door only to hear the clink and rattle of plates and cutlery being put away. Peering in, she sees a costumed figure busy at work.'Egyptian costume? The shabti? Surely not! But it is. Soon Tee is thinking of ways a secret, magical shabti-servant can help her with homeworkwith'schoolwithAll goes well until the shabti begins to enjoy taking Tees place. A frightened Tee must get her back into her box, but 'can she?
____
The Golden Goblet by Eloise Jarvis McGraw
Blurb: Ranofer struggles to thwart the plottings of his evil brother, Gebu, so he can become master goldsmith like their father in this exciting tale of ancient Egyptian mystery and intrigue.
____
For All Time by Caroline B. Cooney
Blurb: Annie Lockwood is testing Time. Shes traveled through it before, but always at Times bidding. Now she is asking Time to take her to the year 1899, when Strat is in Cairo. But Time doesnt like to be tested. In what feels like a cruel joke, Annie is transported to ancient Egypt, thousands of years before Strat was born to a world far removed from the one she knows. Meanwhile, in 1899, Strat is photographing the same pyramids that Annie walks among. But while Strat eagerly awaits Annies arrival, another visitor arrives: his father, Hiram Stratton, Sr., has come to Egypt to collect his son. Powerless, Annie and Strat both look to Time. Can its force, which brought them together once, help them find each other again?
____
The Great Pyramid Robbery'by Katherine Roberts
With a compelling mix of myth, magic and legend, The Great Pyramid Robbery is the first book in the exciting new series The Seven Fabulous Wonders. Based on the seven ancient wonders of the world, Katherine Roberts weaves an enticing web where the ancient world meets pure fantasy. Set against a dazzling backdrop of the Two Lands now known as Egypt and the building of the pyramids, 2550 BC comes alive with the main protagonist, Senu, and his mischievous ka, Red. The ruler of the Two Lands, Lord Khafre, is determined to outdo his late father and construct the largest and most magnificent pyramid ever recorded, but there is mutiny amongst those to whom the task has fallen. Determined to relieve their poverty, the pyramid workers plan the perfect crime perfect that is, except for its main ingredient! Senu and Red.
___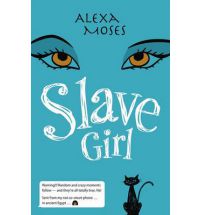 Slave Girl by Alexa Moses
Thirteen-year-old exchange student Jenna has nabbed an appointment in New Yorks coolest hair salon, but when her teacher insists she stay with the group at the boring Metropolitan Museum, she storms off and stumbles into what she thinks is a fancy-dress party. And it is a party. In ancient Egypt. 3500 years ago. Once Jenna accepts shes really travelled back in time, she realises she has to work out a way home with only her big mouth, a smart phone and a pair of second-hand Marc Jacobs sandals to get her out alive.
___
The Mummys Revenge by'Roy Pond
Trying to make their weird cousin, Harry, feel at home, Josh and Amy play the Mummy Monster Game that he shows them and find the game becoming all too real when they discover themselves trapped in an actual tomb.
See also:

____
The Blue Hawk by Peter Dickinson
Blurb: In an ancient kingdom controlled by the sinister power of the Priests, Tron is a temple-boy in training, devoted to performing vital rituals to O and Aa, the gods of the Sun and Moon. But when he overturns a solemn sacrifice of the Blue Hawk, Tron is in deadly danger and must run for his life.
__
The Oracle by Catherine Fisher
Blurb: In the distant land of deserts and islands, the servants of the god rule the land, his wishes conveyed through the Oracle and interpreted by the High Priestess. Mirany is the new Bearer, afraid of her perilous duties for the god in the rituals of the Oracle, and fearful of her secret questioning Does the god truly exist? The priestess is corrupt and in secret partnership with the General, ruler, since the God-on-Earth, the Archon, has no real power chosen as a child, his face always masked, never seen by outsiders. Should any national tragedy occur, he is also the sacrifice. When the old Archon dies, his spirit migrates into a child, and there are several candidates for succession. But Mirany begins to experience the real visions of the god, discovers which child is the rightful heir, and that the General and High Priestess intend to choose another child and seize power. With only a tomb-robbing scribe and a mad musician for allies, Mirany begins her quest knowing that, if she is betrayed, her fate will be to be walled up alive in the Archons tomb
See also:
_______
The Cat of Bubastes: A Tale of Ancient Egypt by'G. A. Henty
young Egyptian accidentally kills a sacred cat and must flee from an angry mob. Set in 1250 B.C., the time of Moses, this thrilling adventure also features fascinating details about Egyptian religion and geography, the methods by which the Nile was used for irrigation, and how the Egyptians were prepared for burial.
_______
Mara: Daughter of the Nile'by'Eloise Jarvis McGraw
Mara is a proud and beautiful slave girl who yearns for freedom. In order to gain it, she finds herself playing the dangerous role of double spy for two arch enemies each of whom supports a contender for the throne of Egypt.
___________