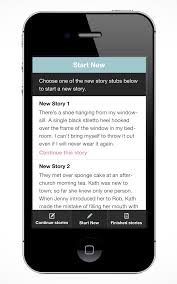 If you were to ask me to name one of the more unusual collocations in the English language, 'exquisite corpse' would have to be one of them.
Fortunately for those of us of squeamish constitution, it refers not to some sort of questionable forensic titillation, but rather to a type of collaborative story-telling whereby participants would turn by turn compile a narrative.
The concept has remained popular over the years, but with the rise of social media has experienced a sort of virtual renaissance. Two notable recent projects include Tim Burtons crowd-sourced Cadavre Exquis, and Neil Gaimans fan-sourced Twitter story.
The newest addition to the genre is the Unfinished Phrase iPhone app, to be launched today at the close of Melbournes Emerging Writers Festival.
The app is the brainchild of former EWF 'Geek in Residence' Pierre Proske, who was inspired to develop a collaborative storytelling platform after attending the EWF event last year.
Although Proske studied literature as part of his combined arts/engineering degree at university, he doesnt necessarily harbour writing aspirations himself. It came as somewhat of a surprise to him, then, that during his attendance at the EWF that he found himself quite excited by the idea of writing.
'I was actually really impressed by that given that I wasnt strictly the target market. I attended a lot of panels and things and got really excited about writing and getting published, which was quite exciting and quite surprising.'
That said, he noticed that throughout the festival there wasnt actually a great deal of writing actually going on. The focus was instead more about absorbing information from other writers and publishing experts.
But the idea of harnessing the creative passion and energy that was apparent at the festival remained with Proske.
'I wanted to capitalise on that energy in some way, and I thought perhaps one solution was to have a small, playful app that people could engage with without having to be dragged into that whole I have to write a whole short story thing. Something that wasnt too overwhelming or massive, but that was still getting people to write.'
The fact that the EWF was such a collaborative event was a key realisation: Proske wanted to make the most of the fact that in this sort of festival situation writers are surrounded by other similarly minded people.
'That was essentially the key realisation that drove me to then propose an app that could be used during the festival. The EWF was looking for digital media proposals for the next festival, and I came across the concept of an app that was more or less based on the concept of the exquisite corpse, where you write one thing after another.'
Proskes research into the idea led him to all manner of online collaborative story-telling experiments, and he was confident that the idea had potential. The longevity of such projects remains somewhat of a question mark, however, and he was mindful of this when pitching the idea.
'Im not sure if it can really work well over the long-term. The evidence suggests that maybe it doesnt because these other sites have an initial amount of energy and then it drops of. Tim Burton ran his project for one or two weeks and then sort of wrapped it up, so it wasnt a never-ending sort of thing. This is what I envisaged for the festival as well. At this point in time were just doing a one-night event as part of the closing part of the festival.'
In addition to timeliness, another key fact was that the barrier to entry should be kept low so that people wouldnt be intimidated about participating.
'It was just meant to be fun and fast,' says Proske. 'I developed a simple prototype using WordPress, then applied for some funding from the Australia Council.'
Finding someone to help develop the app for the iOS platform was a little more difficult, however, not just from the budgetary side of things, but also because Proske wanted to be able to work with a team who would see the app not just as a client job, but more of an 'art project'.
'At one point Id sorted of decided that Id do it myself, because I sort of liked the idea of having control over the project over the long term'if wed worked with a faceless company, if we didnt have any further funding it might have made it difficult to resurrect it or make changes.'
But when Proske met Jonathan Chang of Silverpond (disclosure: my husband) at an event, he felt that hed found someone who understood what he was trying to achieve with the app. And Proske has plenty of plans for it.
'Im very excited for this thing to continue and maybe take a stronger shape, because there are other possibilities in terms of for example harnessing Twitter to promote peoples writing while theyre using the application.'
The app currently requires a Twitter account in order to log in, which was seen as a reasonable requirement given how active the EWF audience seemed to be on Twitter. Further possibilities exist here, too.
'In the future it would be nice to publish the story with a particular handle, or even particular fragments on Twitter, or even other social networks. For example, if you do contribute to a story, you can have the opportunity to share your little quote somewhere. This might bring in new people to the app, and they might then register and engage and so on.'
Engagement is key to the apps success, says Proske, who is aware that a certain critical mass is needed in order to develop the momentum the app will need to create sustained interest.
'If theres constant activity and people responding to your thread or story, then youd become very much engaged and want to see it through to the end. We havent been able to do a large beta test, so the closing party will be an initiation into that, to see how well it works.'
If the app does see the kind of engagement that Proske hopes for, hes confident that it can be used in a variety of different contexts.
'It could very well be reused for different events, or in an ongoing way. There are actually a lot of possibilities. Hopefully everyone there tonight will be encouraged to engage with the story, so at least therell be a whole bunch of activity going on, and also its the end of the festival, so maybe people wont be so uptight in terms of writing.'
Part of his excitement stems from the fact that with this sort of storytelling platform its impossible to know what the result will be.
'At the moment its pretty raw. Weve left it totally open. I really dont know what to expect. The app will be public, and once it does get launched, it will get attention, and I assume well probably keep it open, at least for a little while. I am kind of excited to see how it pans out, and I hope it will engage a wider public.'
The Unfinished Phrase app is available on iTunes.
Visit the Unfinished Phrase website.