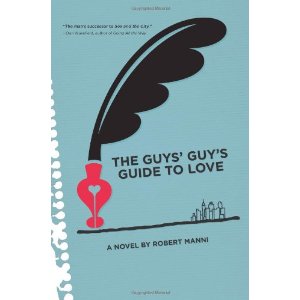 My husband has a friend who appears to have internalised every word of'The Game, and to rather nauseating effect. This guy owns not one, but several cream-coloured suits, wears brimmed hats inside, breaks out in French (and/or karate poses) whenever his girl-dar starts beeping, begins every sentence with I, and has very creatively reinterpreted the term monogamy. And for some utterly unfathomable reason, the lonely masochists of the fairer sexand no few of his ownflock in his direction.
This guy is the embodiment of the question that since time immemorial baffled sociologists and laypeople alike: what is it about obnoxiousness, arrogance and self-obsession that is apparently so appealing to the tragic moths who fling themselves into this emotionally devoid flame, knowing, surely, that theyll get burnt?
Roger Fox, the subtly named playboy in Robert Mannis'The Guys Guys Guide to Love, has all the answers, it seems, and when his friend Max Halliday seems to be suffering in the love stakes, takes the latter under his wing in order to school him in the ways of your overachieving Lothario. Under Rogers tutelage, Max learns how to best cast his net into the world of online dating, where women flit in schools of romantic desperation; how to shortcut his way from introductions to the bedroom through the simple act of commenting on someones hair or handbag; and how to hone his pick-up skills so that, in a thumbing of the nose at John Nashs game theory, he is able to pick first the best of the lot before moving on to the less-than-exemplary as his sex drive requires.
Max, although initially reticent about this dating-by-numbers approach to things, finds himself steadily drawn into the wanton and hedonistic ways of Rogerespecially after being offered a position as a relationship columnist in a new magazine designed to help empower women. Nice guy Max decides to use his insider knowledge of Rogers morally wayward ways to warn the magazines readership about the sharks cruising amongst those fish in the dating sea. His column, however, resonates with New Yorks single women, and Max is suddenly thrust into a spotlight of adoration that tests his own moral mettle. Roger, meanwhile, is beginning to realise that there may be more to life than soulless one night stands and endless Tom Collins cocktails.
Set against a backdrop of the cut-throat advertising world and the Big Apples dating scene,'The Guys Guys Guide to Love seeks to marry'Mad Men with'Sex and the City, with endless bad behaviour in both the business and dating worlds. Its characters are driven to conquer both boardrooms and bedrooms with equal fervour, and competitors and love interests are put to bed with calculating coldness that would make even Don Draper flinch.
But the novel ultimately falls short of its mark with a plot that becomes convoluted due to the deeply interlinked nature of its subplots and characters, and characters that in their flamboyance consign themselves to cliche. The downward spirals of Max and Roger and their subsequent epiphanies quite often feel tedious, with Max especially failing to appeal. Hes a largely drab character who acts as a springboard for the shenanigans of the others, the sort of central pivot that links the other characters together, but is unmemorable himself. However, Max is somehow both unremarkable and awful: he laughs at Rogers misogynistic jokes and is in his own way as much of a playboy as the friend whose behaviour he condemns, but without the levity that makes Roger bearable. And honestly, the happy ending that eventually befalls him frustrated me to no end. I loathe the idea of a woman in waiting in a modern novel, especially in one like this that attempts to paint women as all about agency and empowerment.
The novel also struggles under the weight of its own efforts to enlighten and proselytise, flitting from the witty repartee that is Mannis strength to dense thickets of backstory that feel awkward and imposing rather than illuminating as they are presumably meant to be. The lengthy explanations of the various characters motivations and their reasons for pursuing particular paths feel gratuitous, and I think that the novel would be better for their excision.
Take this passage about Serena, for example:
shed harboured a basic distrust of men, and as a result, had never married. Now she longed for an opportunity to find a loving partner whod want her just as she was without making her change or do things his way. Maybe when the time was right, shed want a child.
Or this about Roger:
Roger remained locked outside, lacking emotion or joy beyond the fleeting elation from [sex]Somewhere, deep down, Roger was aware of his inability to be open to love, and he desperately wanted that to change. But for now, love was elusivea way of forgetting.
Or this about Max:
He loved sex, but in his heart, he was a serial monogamist. Falling in love with the right woman had always been his goal. Unlike Roger, Max viewed emotional intimacy as a prelude to sex. He had to feel an underlying connection with a woman.And despite his newfound celebrity and a parade of one-night stands, Max was lonely.
These passages are lobbed in amongst the light-hearted banter like grenades of finger-wagging, and they undermine the sharp critique that Manni is aiming for. The same applies to Maxs column, the awkwardly titled Guys Guys Guide to Love for which the novel is named, each issue of which is reprinted in full in the text, but is honestly rather dull and preachy. With passages like these, the novel begins to feel almost like a self-help novel whose various be the woman you want to be! manifestos are divided by scene breaks in the form of sex scenes.
Theres potential here, but Max and Roger become so alike in the end that theres no male character for whom we want to cheer, and the result is something the borders uneasily on the misogynistic. I felt that the novel would have benefited with a good bit of paring back so that Mannis dialogue and obvious insider knowledge of the advertising industry could stand on their ownthese elements are quite illuminating enough without the added layer of forced elucidation.
This one wasnt quite my cup of tea, but it was interesting to see a chick lit style novel written from the male perspective, and I expect that others might enjoy this no-holds-barred take on love and romance in NYC.
Rating:





(okay)
Support Read in a Single Sitting by purchasing'The Guys Guys Guide to Love from Amazon