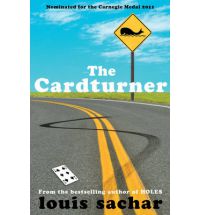 Sometimes I think Im a real life Benjamin Button: I was born old (although fortunately gravity is still on my side). I dance tango and swing. I own a sherry set (although admittedly unused). I frequently find myself saying but isnt she cold? when Im heading home and everyone else is heading out for the night. So while no doubt many have scratched their head at Louis Sachars decision to write a book about Bridge, that preserve of the blue-rinsed and false-toothed, I perked up a little: an old peoples thing I hadnt gotten to yet!
But honestly, if the mark of a great author is to be able to make a game of cards excitingand doing so while liberally sprinkling Moby Dick-esque infodumps about Bridge rules (each rather amusingly designated by the Melville whale icon)then Louis Sachar is one indeed. If you told me that his next book was an in-depth exploration of the nature of drying paint, Id be up for it.
Alton Richard is a hapless, rather doltish teen whose social nous leaves somewhat to be desired. His best friend has stolen away his girlfriend, his replacement best friend is his eleven year old sister, and his only other social prospects involve becoming cardturner for his blind but wealthy Bridge-playing uncle Lester (Trapp). The last is a bit of a coup for Altons money-grubbing parents: creaky, diabetic Trapp is bound to drop off the perch any day now, and Mum and Dad have every intention of frolicking amongst the piles of cash no doubt hidden in Trapps basement.
But as Alton plays his role as cardturner over a giddying array of Bridge games and tournaments, he begins to see the human side of Trapp, and develops a deepening respect for the mans evident genius: Trapp is a master of this notoriously challenging game. Alton is the ethnographer who moves from standing on the outside of an unfamiliar society with an entirely incomprehensible language to one who becomes slowly ingratiated into its norms, but in doing so, he finds himself viewing his own family in an entirely different light. His quiet patience with both his parents and with the incorrigible Trapp is enviable, and on more than one occasion the reader wonders who exactly is the adult in the story.
The Cardturner'is a novel that bridges (pardon the pun) past present and future with elegance. The current series of bridge playing comprises the now, while the future is always lurking whenever Trapps frailty is observe. Its the past, however, that seems so much more prominent than these other temporal dimensions: there are so many connections waiting to be made and untold truths waiting to come to the fore. Trapps past is a murky one, but its a past whose memory has been written and rewritten by those around him rather than by Trapp himself, and its fascinating to see the truth of it finally come to light.
These elements of past, present, and future, and of course the generations they represent are brought together by the very game of Bridge. Young and old play initially with those of their own generations, but these age gaps are worn down and blurred as bridge becomes the lingua franca between those involved. Bridge is a catalyst, too: it hurtles Alton into adult life, allowing him to break away from the selfish, materialistic ideology of his parents, and to make his own decisions about how things will play out. Theres very little luck in it, though: as Sachar takes pains to point out, Bridge is not so much a game of luck, but one that is highly reliant on skill and deduction. The odds of a truly bad Bridge hand, a Yarborough, are 1827 to one, so theres no room for blaming external circumstances for the situations in which we find ourselves, Sachar intimates.
And its a lesson that Alton takes on board, as he and his maybe-cousin Toni find themselves walking in the shoes of Trapp and Trapps Bridge partner (how literal this is youll realise when you reach those final few pages) in order to make right those devils of the past, and to eschew those skewed, selfish identities pressed upon them from without.
For all its Bridge terminology and metaphor, which can be hard-going at times,'The Cardturner'is a surprisingly sleek, neat read, and Sachars ability to make the rather deliberately esoteric accessibleand entertainingis testament to his substantial skills as an author. Not only will you come away with a basic understanding of Bridge (now I finally know what Grannys on about), but you may well find that a few other ideological gaps and generational assumptions are done away with, too.
Rating:





(excellent)
Purchase The Cardturner from Amazon | Book Depository UK | Book Depository USA
With thanks to Bloomsbury Australia for the review copy
This book was read as part of my participation in the MS Readathon, a charity event that supports multiple sclerosis research. If you would like to sponsor my efforts, you can do so'here. All donations are tax deductible.
Other books by Louis Sachar: