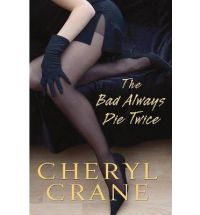 As the daughter of Hollywood star Lana Turner, Cheryl Crane has some big stilettos to fill, and so does her protagonist Nikki Harper, herself the daughter of a Golden-Era screen goddess. However, though Crane is clearly taking some inspiration from life, one can only hope that the similarities end quite there: Nikki finds herself confronting more dead bodies and slimy wealthy types than anyone should ever have to deal with.
Nikki may own a Philippe-Patek watch and a giddyingly expensive sports car, and be the recipient of a trust fund that would make Paris Hilton jealous, but she keeps all of these hidden safely away from prying eyes, determined instead to retain her hard-won persona of made-it-by-herself Hollywood realtor. A Toyota Prius and (vintage) Chanel is about as decadent as she gets, and Nikkis credit cards are always paid off. But the same isnt true 'for her colleague Jessica Martin: Jessica is all about flashy designer gear and debts up there with Greeces. As cautious about social propriety as she is about her bills, Nikki suspects that Jessicas penchant for older, wealthier men may be supplementing her income somewhat, but not being the type to pry, she keeps her mouth shut.
Well, at least until Hollywood has-been Rex March is found dead in Jessicas bedroom.
This raises a bit of a buzz for two reasons: one, theres a dead guy in Jessicas bedroom, and two, Rex March supposedly died in a plane crash months ago. The coffins six feet under, and his wifes long been enjoying the company of a Hollywood boy toy.
There are just far too many things wrong with this scenario for Nikki to let things go, so rather than hunting out huge property commissions she sets to work determining what on earth is going on. But Nikkis up against a tough puzzle: shes no stranger to the Six Degrees of Kevin Bacon, and her group of friends and acquaintances has more connections than an interstate train trip. Realising that everyone seems to have a motive, and that everyones a damn good actorthis is LA, after allNikki calls in the big guns: her mother, Victoria Bordeaux. And what a team the two make. While Nikki sleuths around, interviewing waiters and janitors and breaking into offices, Victoria sets back, martini in hand, and offers frank and incisive advice straight out of each of films in which shes starred. Its a fabulous take on the mismatched cop routine (and one no doubt helped by the fact that I cant help but imagine Victoria Bordeaux as Joanna Lumleys Patsy in Absolutely Fabulous.)
On the whole, The Bad Always Die Twice'is a solid debut, and Crane does an excellent job of giving us a wealth of characters with whom to identify. Nikki is a strong, well-rounded character (although I dont quite buy her disdain for the designer gear she pooh-poohs, particularly given that she drops more brand names than Hansel and Gretel do breadcrumbs), and other than her penchant for kissing her Cavalier King Charles spaniels (who does that?!) shes quite likeable. However, its Victoria who steals the show: shes self-assured, witty, and utterly deft in the way she handles others. Shes an archetype, but not a stereotype, and she shines as a character. Even my Great Gran would pale in this womans shadow.
Some of the other characters, however, dont fare quite so well, with Nikkis sort-of boyfriend being such a non-entity that he could easily have been cut from the manuscript, and Jessica, the accused, never coming across much more as a self-absorbed mannequin. Given the central role of her character, particularly towards the end of the novel, I felt that more could have been done to round out Jessicas character and invite a little more sympathy towards her. And while some of the more key characters feel quite solid, its the bit parts that feel a little rushed: the'array of wait staff, bellboys, bussers, valets, maids and janitors becomes somewhat interchangeable after a while, resulting in things becoming somewhat convoluted towards the end of the novel. (And ah cayant not maynshun tha ay-ful south-ehn ayk-cent'given to suspect Tiffany. Oh'mah'ey-uhs.)
Plot-wise, the novel is overall quite strong, although I cant help but feel that some elements could have been tidied up a little. The double death of Rex March feels a little over the top, even for Hollywood, and I wonder whether killing him just once might have streamlined thingsparticularly given that much of the rest of the plot would still stand. (And I have to note that things would have been far easier to follow had just some of the characters remained faithful to their partners. Goodness, its all just one big happy family in LA!) There are two key reveals close to the end that felt a little hastily trotted out to me, particularly given the slow build-up throughout the rest of the novel. A little bit of tweaking might have made for a more evenly paced novel overall.
In all, though, this is a solid debut, and now that the introductory stuff is out of the way, and Nikki is firmly established as a Real Estate/PI to the stars, I suspect that the next in the series will be very good indeed. I am, however, put off from ever, ever attempting to drive anywhere in LA.
Your turn: what do you think of the fact that Crane has incorporated a famous actressrather like her motherinto her new series?
Rating:





(very good)
Purchase The Bad Always Die Twice from Amazon | Book Depository UK | Book Depository USA | Booktopia
With thanks to Book Trib for the review copy