If I were to top myself, drinking Drano w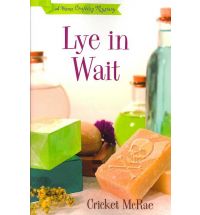 ouldnt be at the top of my list of ways to go. But handyman Walter Handover apparently did: hes lying dead as a (corroded) doornail in Sophie Mae Reynoldss workroom. Sophies not only aghast to find a dead guy in her home, but shes further concerned when shes pressed about her particular line of workwhere caustic solutions such as Lye feature heavily. But Sophie isnt convinced that Drano could possibly be Walters drink of choicenor that he might have been suicidal. Particularly since, it turns out, hes got quite a bit of cash sitting in the bank. And when Walters house suddenly goes up in flames, destroying mountains of documents, Sophie realises that shes on to something.
Like any good cozy heroine, Sophie sets about snooping away, but her efforts land her in plenty of strife. Her home is robbed. She is the victim of a hit and run. Dodgy ex-partners force themselves into the mix. And of course her interrogations of the neighbours and propensity for hoarding evidence doesnt exactly endear her to the policeall two of them employed by the tiny town. Although, Sophie has to admit, spunky Detective Ambrose is being relatively accommodating giving that shes tramping all over his investigation.
So far so good: McRae sets up an intriguing whodunnit scenario complete with all the cozy mystery must haves. For the first half or so of the book things trot along in style, with the characters backgrounds neatly fleshed out and the small-town milieu nicely drawn. But things start to get a bit rickety as the book continues on. A superficially simple set-up suddenly turns into something involving more back-story than a university history textbook, and complex family trees suddenly start to take root: random babies, evil ex-husbands, unehard-of fiancees, and mean grandmothers suddenly crop up in quick progression, resulting in somewhat of a narrative shambles. 'While Im all for serendipity and various degrees of Kevin Bacon, I found it hard to get my head around these facets of the novel, particularly when the suddenly introduced characters were drawn so simplistically: the gambling ex-husband, for example, is a manipulative menace who snarls and growls and seems incapable of any sort of coherent thought, while the cartoonishly snarky Granny rather resembles hard-tongued, vicious Mom out of Futurama.
Even Sophie herself is a mixed bag characterisation-wise. I did like that she lacked the overly quick-mouthed bitterness so typical of a cozy heroine, and that she had her own foibles and failings; I also enjoyed the non-traditional living situation she enjoys with her best friend and best friends daughter. And while she does get up to more than her fair share of mischief conducting her own investigations, the clues and solutions dont simply fall in her lap or arise out of pure coincidence: Sophie works pretty darn hard to get her evidence. The realities of meddling in a police investigation are also touched upon, as are the challenges associated with limited police resources. (But although I enjoyed the in-depth approach to soap making and all that it entails, I cant help but think that Sophie makes quite the terrible businesswoman. Can making a single batch of soap a week, delaying posting out orders, and failing to keep on top of your accounting really be good business practice?!)
Lye in Wait'is a reasonable enough read that moves along quickly enough, and the setting along is enough to keep a reader happy for a bit. But though the whodunnit presents an intriguing premise, the events leading up to the final reveal confuse more than enlighten, and the final, slightly mawkish chapter (involving signed baseballs, if youll believe it) sees the novel end on somewhat of a weak note.
Rating:





(okay)
This book was read as part of my participation in the MS Readathon, a charity event that supports multiple sclerosis research. If you would like to sponsor my efforts, you can do so'here. All donations are tax deductible.
Purchase Lye in Wait from'Amazon'|'Book Depository UK'|'Book Depository USA
Other books by Cricket McRae: