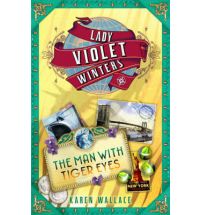 If my voracious reading of R L LaFevers Theodosia'books is any indication, it seems that I have quite a thing for reading about go-getter female sleuths in ye olde times. Like the Theodosia'series, Karen Wallaces Lady Violet Winters'books feature an upwardly mobile, precious lass for whom no mystery is too great, and who has no qualms about throwing herself into the midst of the most nefariously plotted coup. However, where Theodosia'leans heavily on Egyptian mythology and boasts no few fantastical elements, the Lady Violet Winter series has its feet firmly rooted in realityor as least as much as a book about an amateur detective teen in the early 1900s can be.
The book opens at a New York reception dinner, which as the well-bred English young lady she is, Violet describes in quite hilarious styleshe is, she tells us, not being used to such wanton displays of wealth and pomp. But as it turns out, its not just the affair itself thats over the top: theres plenty going on behind the scenes that warrants a second glance. Why, for example, is the up-and-coming painter Louis Colbolt speaking so intimately with the man with the eerie yellow eyes?
Violets questions only escalate when Louis goes missing, and her investigations seem to point to the criminal underworld of New Yorkwith no little involvement from some of the citys finest socialites. With her best friend Garth in tow, some help from an Irish street urchin called Mickey, and a bit of hindrance from a pet monkey whos taken a shine to Violets mothers faberge eggs, Violet sets to work figuring out the circumstances behind Louiss disappearance and what, exactly, the man with the tiger eyes is up to with all of those blank pieces of paper and a master forger at hand
As is no doubt evident from this summary,'The Man with the Tiger Eyes'is a good deal of fun, and Wallace spares nothing in throwing her characters in the deep end. Family politics, dodgy underworld dealings and hilarious comparisons of the differences in upper crust living between the US and Britain abound, making for a read that could be summed up quite simply as jaunty. Violet and her motley posse of snobs and misfits make for some amusing farcical situations, although unfortunately both she and Garth feel a little flat on the pagealthough the aforementioned Theodosia can be a right brat, her particular brand of gumption is helpful in ensuring that the narrative muscles along. The machinations that Wallace employs to ensure that the adults are out of the way are also quite clever, and one cant help but feel that in this era a wealthy young lass makes the perfect MG protagonist: Violets mother is constantly off attending soirees and other social events, and her governess appears to be equally as distracted.
There were a couple of relationships that felt a little vague to me, these being that between Violet and her father, and that between Violet and her best friend Garth, but I should note that this book is the second in a series, and therefore I am venturing into the story a tad in media res. That aside, Wallace generally does a good job of slipping in the requisite backstory in a fairly seamless manner, and though Im sure it couldnt hurt, I dont feel that its necessary first to read the first in the series (The Secret of the Crocodiles) if youre unable to find a copy.
In all, I quite enjoyed this one, although I did feel that it was a tad conservative in exploiting its setting and characters to the best of their ability. There are a handful of semi-humorous scenes that I felt could have been amped up to better effect; alternatively, I wouldnt have minded seeing more humour throughout given the fairly camp, whimsical set-up were given. The plot itself is nothing earth-shattering in terms of originality and wit, but does move along quickly and tidily, making for a solid little read.
Rating:





(good)
Support Read in a Single Sitting by purchasing The Man with Tiger Eyes'from
Amazon | Book Depository UK | Book Depository USA | Booktopia
Visit Karen Wallaces website
Other books by Karen Wallace: