Given that those named Prudence are rarely so, that Joys are often despairing, and Charitys are often miserly, its no surprise that someone with the surname Eden is having rather a less-than-idyllic time of it. A month has passed since Violet Eden learned that she was a Grigori and thus tasked with keeping the world safe from the less-than-lovely fallen angels known as the exiles. Violets needed that month to recover from a whole lot of thingsbeing seduced (or rather, lets go with raped, since she was magicked into it) by the most heinous of exiles around and jumping off a cliff in self-sacrifice just to name a couple.
But though Violet would much rather spend her days working on her art homework and going for the occasional jog, being a Grigori doesnt offer much downtime. Violet is incessantly in training to fight against the exiles, but though the physical aspect of this is daunting enough, its the psychological element that truly challenges her: though its fairly typical in a good-vs-evil novel to polish off the baddies without a thought, Violet struggles with the notion of killing anyone, and of what such an act not only says about her, but does to her.
Violets ambivalence becomes heightened when Phoenix, the exile who has done so much damage to her, returns, and Violet learns how inextricably her fate is linked to hisand how much power he has over her future. Violet and her Grigori partner Lincoln seek back-up in the form of a half-dozen or so Grigori warriors, and soon theyre on their way to Jordan in search of a Maguffin series of scriptures that could put Phoenix in his place at long last.
Enticed'is a stronger novel than its predecessor Embrace'in a number of ways, but a number of the same issues crop up in this one. The ambiguous setting, for one, is an issuegiven that Shirvington is Sydney-based, Ive been assuming that Violet is also, but there are a number of US-centric terms and references (school cafeterias, for one, which Aussie schools dont tend to have) that make me unsure of this. Given that setting is so utterly key to a books realism, its a shame that the author/editor has chosen to keep it so understated here. Yes, Australian settings have a cultural cringe factor, but when theyre done well (here I reference Van Badham again), they really do work. Setting is so essential for things such as dialoguelexical choice, cadence and so oncultureethnic mixes, how women are treatedand ultra-basic things such as what people wear and eat that its bewildering that someone would choose to McDonaldise it in such a way. Fortunately, when the characters zip over to Jordan, we end up with something a little more concrete to work with, and the book picks up extraordinarily from this point on.
Shirvingtons pacing is excellent, and the novel feels a lot shorter than its 400-odd pages. But the plotting and characterisation do feel lazy at times, with many of the characters little more than archetypes. The characters often run the risk of feeling limitless, too: Steph, Violets best friend, is an uber-genius, and although Im the first to admit that Stephs are pretty gifted overall, getting straight As in school doesnt necessarily mean that hacking into the NAB, where A may stand for Australia, America, or Angola, depending on where this story is set, is a highly feasible achievement. Likewise, Spence is the goofy ruffian who makes his own rules, but to the extent that he becomes a plot agent, doing something utterly ridiculous or using his powers so that the narrative can move forward or something can be wrapped up or foiled.
Violet herself is at biggest risk of being infallible given that shes the strongest, most powerful Grigori whos ever existed, but Shirvington does try to temper this. Unfortunately she does so by allowing Violet to have physical strength, but very little emotional strength. Watching Violet struggle to get by without Lincoln is a little disconcerting, and seeing her losing herself in any potential relationship that comes her way is a little distasteful, and given the dominant nature of most of the men in the novel, warning bells do start to ring. Every time I hear the word soulmate I cant help but shudder, as having a soulmate seems to mean becoming utterly subsumed by a relationship and being willing to sacrifice yourself for it.
In addition to this, there are a few elements that didnt quite work for me. Violets in absentia father, for one, is hard to believe as a character: thered better be a big reveal in the third book about his being in the leader of some evil angel collective or something to justify not just making Violet an orphan and being done with it. Nasty pasty Magda is also faintly ridiculous in her motives (do people really, honestly become jealous enough that they cold-bloodedly kill people to get them out of the way?), and some refining or excision could have been done there. Though Shirvington generally avoids being didactic, there is a lot of religiosity going on here, and more agnostic types may find it hard to swallow.
The transition between the first and second books is also awkward, with a garbled single paragraph used to recap the first book, and not especially successfully. Even having read the first book I took some time to get on top of things again. There are also persistent typographical errors throughout the book, with viscous villains, your/youre confusion and missing punctuation some of the more obvious ones.
Despite my misgivings,'Enticed'is on the whole a solid read, and Shirvingtons excellent sense of pacing will keep readers turning the pages. I wouldnt, however, recommend reading this one without reading Embrace first.
Your turn: whats your take on soulmates in teen fiction?
'Rating:





(good)
Support Read in a Single Sitting by purchasing Enticed'from
Book Depository UK | Book Depository USA | Booktopia
With thanks to Hachette Australia for the review copy
See my reviews of Jessica Shirvingtons other books.
Also by Jessica Shirvington: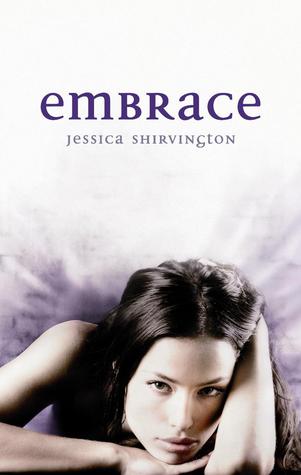 '
Send to Kindle