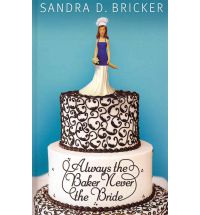 Emma Rae Travis is in the terrible position of having her cake but never being able to eat it: shes a baker who also happens to be a type one diabetic. But her inability to taste her concoctions has had no ill effect on her career, as Emmas walls are smothered with trophies, awards, and all sorts of professional accolades. And when Emma takes out the Passionate Palate with her creme brulee wedding cake, her fortunes are about to increase even further. Her work catches the eye of the Tanglewood Inn, a new all-in-one luxure wedding venue, and Emma herself catches the eye of Jackson Drake, the Tanglewoods owner.
Emma and Jackson seem impossibly ill-suited to begin withthe man refuses to try her hazelnut brownies, for goodnesss sake; and theres the added hurdle of Jackson being her boss. But despite her condition Emma has been known to sneak a bite or two of her sugary concoctions, and when it comes to Jackson, well, pancreas be damned. But though Jackson is fiercely attracted to the can-do, witty Emma, hes still struggling to let go of his deceased wife Desiree, in whose name he has purchased and renovated the Tanglewood.
I must admit that I typically make a conscious effort to avoid Christian fiction, particularly the volumes that overtly moralise and proselytise. For the most part, however, Bricker avoids climbing on to the pulpit, and although a painfully earnest priest makes regular appearances throughout the novel, the religious overtones are initially kept to a low hum. However, there are a few scripture quoting passages that occur later on that feel a little jarring, and agnostic/non-practising Emma Raes sudden decision to begin praying, though ostensibly a turning point, comes across as slightly shoehorned into an otherwise God-free novel.'The are-they-together-are-they-not situation between Emmas parents, too, feels a little ersatz, as though it has been twisted to fit the guidelines of a Christian publisher who may not look especially kindly upon divorce (this, of course, is purely speculation on my behalf).
Some of the subplots add some unnecessary bloating as well, and the story, like a too-tall wedding cake, teeters a little under their weight. The sudden romance between goth Fee and her boyfriend-turned-fiance is lightning fast, and some of the other romance elements in the novel, although ostensibly included to add tension, distract a little from the main event. The situation between Emma Raes parents is the worst offender, but the reappearance of Emma Raes high school beau and his out-of-the-blue efforts to woo her has no purpose other than to try to provide Jackson with a rival. Finally, Aunt Sophie, an elderly woman suffering from dementia, takes up rather a lot of page space given that her role is mostly to play a sybil regarding Emma Rae and Jacksons relationship or to ensure that they end up in the same room together. Shes an appealing character, but doesnt quite work within the boundaries of this book.
One element that does leave a somewhat gritty aftertaste is the between-chapter fillers, which often dont add much to the story. Foodie reads often contain plenty of recipes and tasty morsels to keep the reader salivating between chapters, and while the recipes and icing FAQ tidbits in Always the Baker Never the Bride'invite more than a cursory perusal, the wedding-themed ones (think unique wedding favours that arent especially unique and unique wedding themes that are likewise) do not.
'These elements aside however, Bricker has crafted a lightthink sponge-cake lightread that foofs along like egg whites being whipped. The book is sugary without being overly saccharine, and theres enough cake to keep Marie Antoinette (and even the whole of the third estate) happy. Emma Rae is snappy and forthright without being overly snarky, and shes supported by a variety of charming characters who, though admittedly archetypical, inject the sort of buttercream filling needed to hold together the fluffy layers of this novel. Read it with a box of truffles or a butter cake at hand.
'Rating:





(good)
This book was read as part of my participation in the MS Readathon, a charity event that supports multiple sclerosis research. If you would like to sponsor my efforts, you can do so'here. All donations are tax deductible.
Purchase Always the Baker, Never the Bride from Amazon | Book Depository UK | Book Depository USA
Other books by Sandra D Bricker: