Another week, another list. Following on our lists of Robin Hood retellings, YA books about mermaids, and Kate Forsyths curated list of Rapunzel retellings, I thought Id hunt down some of the myriad Cinderella retellings out there. Im always surprised by how popular this story is, as I think its one of the more problematic fairy tales aroundbut this mix of traditional and progressive retellings of this particular story will hopefully offer some food for thought.
As always, feel free to add your suggestions in the comments below!
(All blurbs taken from Amazon)

Godmother by Carolyn Turgeon
Lil is an old woman who spends her days shelving rare books in a tiny Manhattan bookstore and lonely nights at home in her apartment. But Lil has an intriguing secret. Tucked and bound behind her back are white feathery wings'the only key to who she once was: the fairy godmother responsible for getting Cinderella to the ball to unite with her Prince Charming.
But on that fateful night, something went terribly and beautifully wrong. Lil allowed herself the unthinkable: to feel the emotions of human beings and fall in love with the prince herself, going to the ball in place of Cinderella in her exquisitely gorgeous human guise. For her unforgivable mistake, she was banished to live among humans, far from her fairy sisters and their magical underwater world. But then one day she meets Veronica'a young, fair-skinned, flame-haired East Village beauty with a love of all things vintage and a penchant for falling in love with the wrong men'and suddenly it becomes clear to Lil that she's been given a chance at redemption. If she can find a soul mate for Veronica, she may right her wrong and return to the fairy world she so deeply longs for. . . .
~
Before Midnight by Cameron Dokey
Etienne de Brabant is brokenhearted. His wife has died in childbirth, leaving him alone with an infant daughter he cannot bear to name. But before he abandons her for king and court, he brings a second child to be raised alongside her, a boy whose identity he does not reveal.'The girl, La Cendrillon, and the boy, Raoul, pass sixteen years in the servants care until one day a very fine lady arrives with her two daughters. The lady has married La Cendrillons father, and her arrival changes their lives.'When an invitation to a great ball reaches the family, La Cendrillons new stepmother will make a decision with far-reaching effects. Her choice will lead La Cendrillon and Raoul toward their destiny a choice that will challenge their understanding of family, test their loyalty and courage, and, ultimately, teach them who they are.
~
Cinder by Marissa Meyer
Humans and androids crowd the raucous streets of New Beijing. A deadly plague ravages the population. From space, a ruthless lunar people watch, waiting to make their move. No one knows that Earth's fate hinges on one girl. . . .'Cinder, a gifted mechanic, is a cyborg. She's a second-class citizen with a mysterious past, reviled by her stepmother and blamed for her stepsister's illness. But when her life becomes intertwined with the handsome Prince Kai's, she suddenly finds herself at the center of an intergalactic struggle, and a forbidden attraction. Caught between duty and freedom, loyalty and betrayal, she must uncover secrets about her past in order to protect her world's future.
~
Princess of Glass by Jessica Day George
Hoping to escape the troubles in her kingdom, Princess Poppy reluctantly agrees to take part in a royal exchange program. She travels abroad hoping to find better political alliances and perhaps a marriage. But thanks to a vengeful fairy, Poppys happily ever after gets complicated.
~
Confessions of an Ugly Stepsister by Gregory Maguire
We all have heard the story of Cinderella, the beautiful child cast out to slave among the ashes. But what of her stepsisters, the homely pair exiled into ignominy by the fame of their lovely sibling? What fate befell those untouched by beauty . . . and what curses accompanied Cinderellas exquisite looks?'Set against the rich backdrop of seventeenth-century Holland,'Confessions of an Ugly Stepsister'tells the story of Iris, an unlikely heroine who finds herself swept from the lowly streets of Haarlem to a strange world of wealth, artifice, and ambition. Iriss path quickly becomes intertwined with that of Clara, the mysterious and unnaturally beautiful girl destined to become her sister.'While Clara retreats to the cinders of the family hearth, burning all memories of her past, Iris seeks out the shadowy secrets of her new householdand the treacherous truth of her former life.
~
Silver Woven in my Hair by Shirley Rousseau Murphy
A medieval sixteen-year-old girl who still believes in magic is helped by an old monk and a young goatherd to escape her dismal life reminiscent of Cinderellas.
~
Cinder and Ella by Melissa Lemon
After her fathers disappearance, Cinder leaves home for a servant job at the castle. But it isn t long before her sister Ella is brought to the castle herself. What Ella finds there starts a quest that will change her life and the entire kingdom. With a supernatural twist on this beloved fairytale, its a must read youll never forget.
~
Ash by Malinda Lo
In the wake of her fathers death, Ash is left at the mercy of her cruel stepmother. Consumed with grief, her only joy comes by the light of the dying hearth fire, rereading the fairy tales her mother once told her. In her dreams, someday the fairies will steal her away, as they are said to do. When she meets the dark and dangerous fairy Sidhean, she believes that her wish may be granted.'The day that Ash meets Kaisa, the Kings Huntress, her heart begins to change. Instead of chasing fairies, Ash learns to hunt with Kaisa. Though their friendship is as delicate as a new bloom, it reawakens Ashs capacity for love-and her desire to live. But Sidhean has already claimed Ash for his own, and she must make a choice between fairy tale dreams and true love.
Entrancing, empowering, and romantic,'Ash'is about the connection between life and love, and solitude and death, where transformation can come from even the deepest grief.
~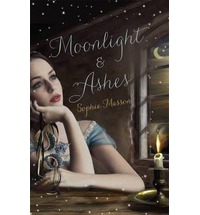 Moonlight and Ashes by Sophie Masson
The story of Cinderella as youve never heard it before A girl whose fortunes have plummeted from wealthy aristocrat to servant-girl. A magic hazel twig. A prince. A desperate escape from danger. This is not the story of a girl whose fairy godmother arranges her future for her. This is the story of Selena, who will take charge of her own destiny, and learn that her magic is not to be feared but celebrated. Pure fairytale with all the romance, magic and adventure that goes along with it.
~
Cinders by Michelle Davidson Argyle
We all know that money cant buy love, but in'Cinders'we learn magic isnt a sure bet either. Cinderella now officially a princess finds royal life is not what she once dreamed. Pretty clothes, fancy meals, and fabulous balls cant make up for a life restricted, and she is denied the simple pleasures she used to take for granted. When a figure from her past stirs up a long-suppressed passion, Cinderella begins to wonder if there really is love under the spell that earned her husbands heart. But undoing magic can be harder than casting the initial spell, and the results are less predictable.
~
Ella Enchanted by Gail Carson Levine
In this novel based on the story of Cinderella, Ella struggles against the childhood curse that forces her to obey any order given to her.
~
Phoenix and Ashes by Mercedes Lackey
In this dark and atmospheric rendition of the Cinderella fairy tale, an intelligent young Englishwoman is made into a virtual slave by her evil stepmother. Her only hope of rescue comes in the shape of a scarred World War I pilot of noble blood, whose own powers over the elements are about to be needed more than ever.
~
Charming the Prince by Teresa Medeiros
My enemies know me as Lord Bannor the Bold, Pride of the English and Terror of the French. Never in my life have I backed down from any challenge or betrayed so much as a hint of fear'until the war ended and I found myself a reluctant papa to a dozen unruly children.'Realising that I couldnt lop their little heads off or throw them in the dungeon, I sent my steward out to find them a mother and me a bride'an attractive, meek, maternal creature too plain to tempt me to get her with child. You can imagine my horror when he returned with Lady Willow of Bedlington, a spirited beauty who made me think of nothing else!
With her cloud of dark curls and the sparkle of passion in her eyes, Willow was everything Id sworn to resist. I never dreamed she would join forces with those mischievous imps of mine to teach this cynical warrior just how sweet surrender can be.
~
Just Ella by Margaret Peterson Haddix
Youve heard the fairytale: a glass slipper, Prince Charming, happily ever afterWelcome to reality: royal genealogy lessons, needlepoint, acting like a proper lady, and worst of all a prince who is not the least bit interesting, and certainly not charming.'As soon-to-be princess Ella deals with her newfound status, she comes to realise she is not your majesty material. But breaking off a royal engagement is no easy feat, especially when youre crushing on another boy in the palace. For Ella to escape, it will take intelligence, determination, and spunk and no ladylike behavior allowed.
~
The Stepsister Scheme by Jim Hines
What would happen if an author went back to the darker themes of the original fairy tales for his plots, and then crossed the Disney princesses with Charlies Angels?
~
Cindy Ella by Robin Palmer
Prom fever has infected LA'especially Cindy's two annoying stepsisters, and her overly Botoxed stepmother. Cindy seems to be the only one immune to it all. But her anti-prom letter in the school newspaper does more to turn Cindy into Queen of the Freaks than close the gap between the popular kids and the rest of the students. Everyone thinks she's committed social suicide, except for her two best friends, the yoga goddess India and John Hughes'worshipping Malcolm, and shockingly, the most popular senior at Castle Heights High and Cindy's crush, Adam Silver. Suddenly Cindy starts to think that maybe her social life could have a happily ever after. But there's still the rest of the school to deal with. With a little bit of help from an unexpected source and a fabulous pair of heels, Cindy realises that she still has a chance at a happily ever after.
~
Shadows on the Moon by Zoe Marriott
Trained in the magical art of shadow-weaving, 16-year-old Suzume is able to re-create herself in any forma fabulous gift for a girl desperate to escape her past. But who is she really? Is she a girl of noble birth living under the tyranny of her mothers new husband, Lord Terayama? Or a lowly drudge scraping a living in the ashes of Terayamas kitchens?
~
The Ash Girl by Timberlake Wertenbaker
With her mother dead and her father away, the Ash Girl lives huddled deep in the protection of the ashes with her stepmother and two stepsisters. When an invitation to the Ball, addressed to all the daughters of the house, arrives from Prince Amir, Ashie cant believe that she can go too.
~
If I Have a Wicked Stepmother, Where is my Prince? by Melissa Kantor
Wicked stepmother?'Check. Evil stepsisters?'Check. Miserable life?'Check.'Lucy Norton's life has all the makings of a Cinderella story. Her dad's always away on business, leaving Lucy with her cruel stepmother and bratty stepsisters. She's burdened with chores, and has a hard time fitting in at her new school. So when she sees Connor Pearson, the star player on the varsity basketball team, Lucy hopes her destiny has finally changed. With everything else going on in her life, doesn't she at least deserve to get the handsome prince?
~
Bound'by Donna Jo Napoli
Young Xing Xing is bound. Bound to her late fathers second wife and daughter. Bound to a life of servitude as a young girl in ancient China, where a woman is valued less than livestock. Bound to be alone, with no parents to arrange for a suitable husband. Xing Xing spends her days taking care of her half sister, Wei Ping, who cannot walk because of her foot bindings, the painful tradition for girls who are fit to be married. Even so, Xing Xing is content to practice her gift for poetry and calligraphy, and to dream of a life unbound by the laws of family and society. But all of this is about to change as Stepmother, who has spent nearly all of the familys money, grows desperate to find a husband for Wei Ping. Xing Xing soon realizes that this greed and desperation may threaten not only her memories of the past, but also her dreams for the future.
~
The Rough-Face Girl by Rafe Martin
From the Algonquin Indians comes an unusual and touching version of the Cinderella story. In their village lives an invisible being whom all the young women want to marry, because it is said that he is powerful and handsome. But only the rough-face girl, burned and scarred from tending the fires, has the vision to see him in every part of the natural world.
~
The Coachman Rat'by David Henry Wilson
The fate of a young rat magically transformed for one brief night into a coachman takes on the air of heroic tragedy in this retelling (from a different point of view) of one of childhoods most famous fairytales. Set in a Europe on the verge of enlightenment, Wilsons somber portrayal of a creature trapped halfway between his animal origins and his new human awareness explores the shadowy aftermath of the phrase and they lived happily ever after.
~
Bella at Midnight by Diane Stanley
Bella has grown up thinking that she was just a simple peasant girl. But suddenly, Bellas world collapses. First, her best friend, Julian, betrays her. Then she finds out that she is, in fact, Isabel, the daughter of a knight who abandoned her in infancy. And now he wants her back. Bella is torn from her beloved foster family and tries to accept her new life with her deranged father and his resentful wife. But when she finds out about a terrible plot that threatens the kingdom, she sets out on a journey that will lead her to a destiny far greater than she could have imagined.
~
The Cinderella Deal by Jennifer Crusie
Daisy Flattery is a free spirit with a soft spot for strays and a weakness for a good story. Why else would she agree to the outrageous charade offered by her buttoned-down workaholic neighbor, Linc Blaise? The history professor needs to have a fiancee in order to capture his dream job, and Daisy is game to play the role. But something funny happens on their way to the altar that changes everything. Now, with the midnight hour approaching, will Daisy lose her prince, or will opposites not only attract but live happily ever after?
~
Chinese Cinderella by Adeline Yen Mah
A Chinese proverb says, Falling leaves return to their roots. In'Chinese Cinderella, Adeline Yen Mah returns to her roots to tell the story of her painful childhood and her ultimate triumph and courage in the face of despair. Adelines affluent, powerful family considers her bad luck after her mother dies giving birth to her. Life does not get any easier when her father remarries. She and her siblings are subjected to the disdain of her stepmother, while her stepbrother and stepsister are spoiled. Although Adeline wins prizes at school, they are not enough to compensate for what she really yearns for the love and understanding of her family.
~
Cinderella: From Fabletown with Love by Chris Roberson
When supernatural artifacts from the Homelands surface in the modern world, it falls to Cinderella, Fabletowns best kept secret agent, to stop the illegal trafficking. But can Cindy foil the dark plot before Fabletown and its hidden, exiled inhabitants are exposed once and for all?
~
If the Slipper Fits by Olivia Drake
Raised in a girls' school, Annabelle Quinn longs for the world outside the walls of the academy.'When she's hired as the governess to an orphaned duke, Annabelle never expects the child's breathtakingly handsome guardian to capture her imagination'or her heart.'Falling for his young nephew's governess is an irksome complication in Lord Simon Westbury's orderly life, but Annabelle's quiet beauty and wry intellect are too much to resist. Meanwhile, a mysterious danger looms over the remote'Cornwall'estate.'Will their newfound desire stand the test of time?'Or are some happy endings just too good to come true?
~
Cinderella, Ninja Warrior by Mauren McGowan
In this fast-paced story full of adventure and romance, Cinderella is more than just a servant girl waiting for her prince'shes a tough, fearless girl who is capable of taking charge of a dangerous situation. Seeking to escape the clutches of her evil stepmother, Cinderella perfects her ninja skills and magic talents in secret, waiting for the day when she can break free and live happily ever after.
~
Cinderellas Not So Ugly Sister by Claire Pyatt
Written in the form of a diary kept by Cinderellas step-sister, Mildred, the plot thickens as she tries to thwart her familys plans to ruin Cinderellas wedding day. With the help of her friend, Bo Peep and the rather handsome Josh, one of the Kings Men, Mildred embarks on a race against time to save the day.