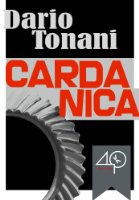 Update: the winners of this competition have been notified. Thanks so much for entering, everyone!
After a short and killer read (and a free one at that)? The crew at 40K books has kindly given us 3 ebook copies of Cardanica: A Steampunk Nightmare'by'Dario Tonani to give away.
Whats it about? Its steampunk story set in a poisonous world where huge trucks the size of ships plow across the treacherous sands.''The 'Robredo' is a giant ship-truck, the darling of the local engineering world. Built of metal and wood, it's powered by a 'magic mix' of steam and bacteria'
What the critics say:
Now that Ive read Cardanica, I wont be taking any elevators.
Roberto Grassilli
Not since Harlan Ellisons I Have no mouth and I must scream has there been a better depiction of man at the mercy of his own vindictive and sadistic creations.
Paul Di Filippo
Want a copy for your ereader? Leave a comment. That's it! The competition is open to all, and closes on the 16th of October.'
Too impatient to wait for the draw? You can'pick up a copy of the book here for a tiny pick up a copy of the book here for a tiny $0.99.'.99.'
________
While you're here, here's some more info on 40K, a publishing company perfectly suited to RIASS's literary outlook.
This is who they are:
This is what they do:
*'Thinking.
Culture is going digital. Our essays will tell you stories about this shift.
In'English'|'French'|'Italian'|'Portuguese (Brasil)
*'Fiction.
A sophisticated selection of stories and a lot of award-winning authors.
In'English'|'Italian'|'Portuguese (Brasil)'|'Spanish