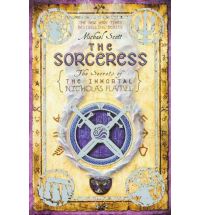 Its been a few months since I read the previous installments in this series, and I suspect that allowing such a gap between books isnt the best way to go about these. Scotts books are action-packed, with each book taking place over roughly a day, so it can be a little odd and Narnia-esque to come back to them after several months to find that only a half hour or so has passed in the book.
The compressed narrative of these books means that theres a certain degree of repetition and a reduced ability for the characters to grow and change, (Okay, so Solzhenitsyn and Joyce managed it, but they werent trying to squeeze in endless action and explosions) but given the everyman nature of the main point of view characters, theyre sympathetic enough that the reader doesnt feel especially alienated. And besides, there are plenty of kabooms and kapows.
The book opens with the alchemist Nicholas Flamel fleeing with twins Sophie and Josh from the burning ruins of Paris. With Sophie and Josh now powerful magic-wielders in their own right, its no great surprise that the Evil Powers That Be are even more intent on capturing them. As in the previous two novels, the plot is pretty much along the lines of: Nick and the twins run; the bad guys catch up to them; theres some fighting; Nick and the twins run.
Fortunately, in the third volume were far enough along in the plot that the action is beginning to serve some purpose beyond the random appearance of complicating factors for the sake of having complicating factors, although the plot is still thin enough that if you look closely youll see that its essentially transparent.
Although Sophie and Josh remain essentially unchanged in this novel (Sophie wants to go back to her old life; Josh is power hungry) Magician Dee and the coldly calculating Machiavelli start to come into their own, and its satisfying to get a more substantial glimpse into their backgrounds and motivations, although admittedly most of it is in flashback or infodump format. Scott also gives us a few extra historical curios to enjoy: Shakespeare makes an eloquent appearance, Gilgamesh the king has a cameo as a disturbed homeless man crippled by the weighty memories that come with ten thousand years of immortality, and we even get a bit of Billy the Kid doing his thing. Nick, too, is starting to crackwithout the magical Codex that gives him immortality, he is beginning to age.
Still, so much of the novel feels like watching a midday soap opera where everything happens in excruciating. slow. motion. Part of this is due to the fleeting way in which Scott flicks between POV characters, a habit that results in plenty of overlap of action (and therefore narrative repetition). This becomes particularly cumbersome when very short scenes are involved: we end up with a series of chapters that could together be easily excised from the narrative without any real effect on the narrative. Whole chapters, for example, are given to characters looking pensive or watching other characters do things. The worst of these is Perenelle Flamel, who has now spent two and a half books sitting in Alcatraz and pondering how to escape. Thank goodness she manages to do so at last, as perhaps shell be of some use in the fourth book.
Although the plethora of monstrous beings from all sorts of cultural mythos make for some enjoyable reading, and the quaint cameos add a bit of Wheres Wally fun to the mix, its the suspension of disbelief issue that is really starting to drag this series down. Its hard to really feel that the characters are truly threatened in any way, and as a result the stakes feel artificially elevatedresulting in a feeling of being somewhat misled.
Theres so much potential here, but I cant help but wish that the fighting and battles would be pared back enough that something actually happens. Its not so much a case of not being able to see the forest for the treesrather, there are plenty of trees, but no forest.
Rating:





(not bad)
With thanks to Simple Schooling for the review copy
Support Read in a Single Sitting by purchasing The Sorceress from
Amazon | Book Depository UK | Book Depository USA | Booktopia
See our other Michael Scott reviews
Other books by Michael Scott: