________
The Sherlockian'by Graham Moore
Blurb: In December 1893, Sherlock Holmes-adoring Londoners eagerly opened their Strand magazines, anticipating the detectives next adventure, only to find the unthinkable: his creator, Arthur Conan Doyle, had killed their hero off. London spiraled into mourning crowds sported black armbands in grief and railed against Conan Doyle as his assassin.'Then in 1901, just as abruptly as Conan Doyle had murdered Holmes in The Final Problem, he resurrected him. Though the writer kept detailed diaries of his days and work, Conan Doyle never explained this sudden change of heart. After his death, one of his journals from the interim period was discovered to be missing, and in the decades since, has never been found.'Or has it?'When literary researcher Harold White is inducted into the preeminent Sherlock Holmes enthusiast society, The Baker Street Irregulars, he never imagines hes about to be thrust onto the hunt for the holy grail of Holmes-ophiles: the missing diary. But when the worlds leading Doylean scholar is found murdered in his hotel room, it is Harold using wisdom and methods gleaned from countless detective stories who takes up the search, both for the diary and for the killer.
________________________________________
The Winter Sea'by Susanna Kearsley
Blurb: It is 2008 and Carrie McClelland cant hit the right note for her next novel, but an unplanned detour in Scotland, and a stop at the castle that inspired Count Dracula, sets her on a different path; a path that took her back in back exactly 300 years, to that same castle, and to a rebellion doomed to failure. Alternating between the contemporary setting and the past, The Winter Sea takes us at every turn into little known worlds; historical footnotes writ large, a history of Scotland and the Jacobite rebellion of 1708 and the possibility of genetic memory. Historical fiction at its best and Susanna Kearsley at hers, The Winter Sea evokes the writing of Thomas Raddall, Daphne Du Maurier, and Mary Stewart.
________________________________________
Of Love and Evil by Anne Rice (part 2 of Songs of the Seraphim)
Blurb: Toby O'Dare, former government assassin, is summoned by the angel Malchiah to fifteenth-century Rome'the city of Michelangelo and Raphael, of Leo X and the Holy Inquisition'to solve a terrible crime of poisoning and to uncover the secrets of an earthbound restless spirit, a diabolical dybbuk. Toby is plunged into this rich age as a lutist sent to charm and calm this troublesome spirit.'In the fullness of the high Italian Renaissance, Toby soon discovers himself in the midst of dark plots and counterplots, surrounded by a still darker and more dangerous threat as the veil of ecclesiastical terror closes in around him. And as he once again embarks on a powerful journey of atonement, he is reconnected with his own past, with matters light and dark, fierce and tender, with the promise of salvation and with a deeper and richer vision of love.
________________________________________
Cat Coming Home: A Joe Grey Mystery by Shirley Rousseau Murphy
Blurb: Escaping Los Angeles and the ugly memories of her sons recent murder, Maudie Toola returns to her childhood home of Molena Point, bringing her orphaned grandson, whom she must now raise, with her. Mourning for her son, shes not looking forward to the holidays but feels she must make them positive for the child. 'But Maudie is unaware that the killer has followed her, nor does she know that the small seaside village is dealing with a series of brutal assaults. A team of criminals is stalking single women, hiding their attacks behind spectacular break-ins to divert the cops. And this time theres not even a phone call from the four-footed snitch to give the cops a lead. 'Meanwhile, a new tomcat appears on the scene, a wise and elderly wanderer who bears an important message from a state prisoner for the chief of police. But this cat has a personal agenda too as does Maudie, who harbors her own secret about her sons killer. As the lonely prison cat provides the link between the mysteries, Joe Grey and his pals, in turn, help him find a surprising new home, a safe retreat in time for the holidays.
________________________________________
Blurb: When you live in a house thats really a gateway between past and present, you have to be ready for'anything. Its a painful fact the Kings have faced since moving to Pinedale eight days ago. Desperately trying to rescue their mother from an unknown time and place, brothers Xander and David have lunged headlong into the chaos of historys greatestand most volatileevents. But their goal has continually escaped their grasp.'And worse: Finding Mom is only a small part of what they must do, thanks to the barbaric Taksidian. His ruthless quest to sieze their house and its power from them has put not only the family, but all of mankind, in grave danger.'Somehow, the key to it all hinges on Uncle Jesses words to the boys: Fixing time is what our family was made to do. But how can they fix a world that has been turned updisde downmuch less ever find their way home?
________________________________________
How to Say Goodbye in Robot by Natalie Standiford
Blurb: New to town, Bea is expecting her new best friend to be one of the girls she meets on the first day. But instead, the alphabet conspires to seat her next to Jonah, aka Ghost Boy, a quiet loner who hasnt made a new friend since third grade. Something about him, though, gets to Bea, and soon they form an unexpected friendship. Its not romance, exactly but its definitely love. Still, Bea cant quite dispel Jonahs gloom and doom and as she finds out his family history, she understands why. Can Bea help Jonah? Or is he destined to vanish?
________________________________________
Vampires Not Invited: A Night Tracker Novel by Cheyenne McCray
Blurb: Vampire attacks are on the rise in the city that never sleeps. So why is half-human, half-Drow private eye Nyx tracking down Sprites? Sure, these 'young bloods' are causing mischief all over town'like painting the Statue of Liberty's toenails neon pink. But it's not until Nyx finds herself at the Pit, Manhattans hottest nightclub for paranorms, that she understands what she's really up against''Seems Master Vampire Volod has a plan'and the Sprites are in on it. By targeting the weaknesses of every paranorm in the city, from Elves to Shifters to Zombies, Volod and his fang gang aim to rule the night once and for all.'Over Nyx's dead body. She loves a good challenge'and she will seduce danger at every turn to throw Volod off course. It's time for Nyx to enter the beating heart of this dark conspiracy'before driving a stake through it.
________________________________________
Portraits of a Few of the People I've Made Cry by Christine Sneed
Blurb: The ten stories in this striking debut collection examine the perils of love and what it means to live during an era when people will offer themselves, almost unthinkingly, to strangers. Risks and repercussions are never fully weighed. People leap and almost always land on rocky ground. May-December romances flourish in these stories, as do self-doubt and, in many cases, serious regret. Mysterious, dangerous benefactors, dead and living artists, movie stars and college professors, plagiarists, and distinguished foreign novelists are among the many different characters. No one is blameless, but villains are difficult to single out-everyone seemingly bears responsibility for his or her desires and for the outcome of difficult choices so often made hopefully and naively.
________________________________________
Sinister Sprinkles: A Donut Shop Mystery by Jessica Beck
Blurb: Just in time for the Winter Festival, a glistening layer of snow has covered the streets of April Springs, North Carolina. Of course, it reminds donut shop owner Suzanne Hart of sweet delicious frosting. But her visions of sugar plums plummet when her ex's ex-girlfriend gets iced '''If you like donuts'and who doesn't?'you'll love this mystery series.''Leslie Meier'Suzanne could never understand why her ex-husband and actor Max cheated on her with Darlene Higgins. Why Darlene's body was found wearing another woman's clothes is an even bigger mystery. Now Max is suspected of murder'and Suzanne is sifting through her mixed-up love life looking for clues. If she can't sprinkle evidence on her half-baked theories of whodunit, Max is as good as fried'.
________________________________________
A Night too Dark by Dana Stabenow
Blurb: When an abandoned pickup truck complete with suicide note leads a search party to find human remains that have clearly served as a snack for a bear, case closed suicide by Alaska. But things get complicated when the dead man stumbles out of the wilderness and onto Kates homestead weeks later. Kate and Trooper Jim Chopin must unravel the story of the man and the body, whoever he is, which is wrapped up in the politics of the Suulutaq Mine, a gold mine near Niniltna that is proving to be a breeding ground for trouble.
______________________________
An Object of Beauty by Steve Martin
Blurb: Lacey Yeager is young, captivating, and ambitious enough to take the NYC art world by storm. Groomed at Sothebys and hungry to keep climbing the social and career ladders put before her, Lacey charms men and women, old and young, rich and even richer with her magnetic charisma and liveliness. Her ascension to the highest tiers of the city parallel the soaring heights and, at times, the dark lows of the art world and the country from the late 1990s through today.
______________________________
The Emperors Tomb by Steve Berry (our review forthcoming)
Blurb: Hearing that his old friend Cassiopeia Vitt is in trouble, Malone follows the few clues he has and realises that they are in the middle of something huge, involving Russian and US oil interests and a centuries-old secret. After stumbling across two dead bodies and into the crosshairs of his former boss, Malone finds himself in a race to unravel the mystery of an emperors tomb, a sinister society, and a deadly battle between two ruthless men for supremacy in China and the world.
_____________________________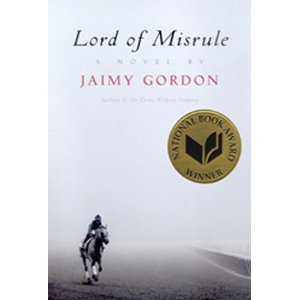 Lord of Misrule by Jaimy Gordon
Blurb: Thoroughbred horse trainer Tommy Hansel has a scheme to rescue his failing operation by shipping four unclassed horses to Indian Mound Downs, run them in cheap claimers at long odds, and then get out fast before anyone notices. The problem is, at this rundown riverfront half-mile racetrack in the West Virginia panhandle, everybody notices from the start -? Kidstuff the farrier, track super Smithers, an old groom Medicine Ed, gypsy owner Deucey Gifford, eventually even the ruled-off bookmaker Two-Tie, and an ominous trainer, Joe Dale Bigg. But no-one factors in Hansels go-for girlfriend, Margaret Koderer. Much like the beautiful, used-up, tragic creatures she comes to love, Maggie is almost a force of nature, an adventuress with enough personal magnetism to spin everyones sure thing right back to the source of all luck.