?
We get a lot of hits from searches relating to particular themes; bullying has been quite a popular search of late. With that in mind, weve put together a brief list of books that might be useful. If you have any suggestions or corrections, do let us know.
NB: all blurbs taken from jacket copy/publisher descriptions/Amazon except where specified
Skarrs'by Catherine Forde (read our review)
Blurb:'Grampa Dan has just died. Danny notices the smell of his bedroom and the banging of his stick have gone, but gradually notices what else is missing. It was his forgotten Richard who uncovered Grampa Dans secret, while Danny was out with the dangerous Jakey, cutting school, listening to the violent lyrics of his favourite band, Skarrs. Danny would like to clean up his act, get together with the gorgeous Ali, but he cant escape Jakeys gang, even when the police come asking questions. Running from Jakeys revenge, Danny turns to Richard, and at last hears the truth: Grampa Dan, always hearing Skarrs lyrics about concentration camps pounding through the wall from Dannys bedroom, had himself been a prisoner of war in a Japanese camp. He left a Bible, every page covered with sketches cataloguing his experiences. Danny and Richard together present an exhibition on the experience of prisoners of war. Danny has finally looked around him, seen his life for real, and knows this is his last chance.
___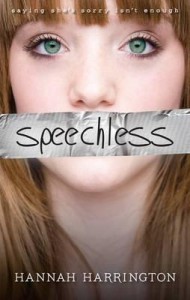 Everyone knows that Chelsea Knot cant keep a secret.Until now. Because the last secret she shared turned her into a social outcast'and nearly got someone killed.'Now Chelsea has taken a vow of silence'to learn to keep her mouth shut, and to stop hurting anyone else. And if she thinks keeping secrets is hard, not speaking up when shes ignored, ridiculed and even attacked is worse.'But theres strength in silence, and in the new friends who are, shockingly, coming her way'people she never noticed before; a boy she might even fall for. If only her new friends can forgive what shes done. If only she can forgive herself.
___
Newbery Medalist Jerry'Spinellis'hilarious, poignant story of cocky seventh-grade superjock'Crash'Coogan.
___
Other Brother'by Simon French'(see our review)
Blurb:'Kieran wants to be part of the in-group at school. He wants to be on the football team. He wants to fit in. But then his cousin Bon turns up. Bon doesn t know anything about fitting in he looks different, he wears the wrong clothes, and he says weird things. Kieran just wants to ignore Bon, but soon he is forced to make a choice. Which is more important being popular, or doing the right thing?
___
13 Reasons Why'by Jay Asher (read our review)
Blurb:'Clay Jensen returns home from school one day to find a mysterious box, with his name on it, lying on the porch. Inside he discovers 13 cassette tapes recorded by Hannah Baker his classmate who committed suicide two weeks earlier. On tape, Hannah explains that there are thirteen reasons why she did what she did and Clay is one of them. If he listens, hell find out how he made the list and itll change Clays life forever.
___
Shadows in the Mirror'by Cameron Nunn
Blurb:'In the corridors of Hamilton college lies a secret. Behind the facade of wealth and power is a world of brutality, where rugby controls lives and boys must learn to be men even if it kills them. When one student takes a stand, another must decide what really matters. Events of the past avalanche into the present and bring students face to face with the shadows in the mirror.
___
The Chocolate War'by Robert Cormier'(classic)
Blurb:'The headmaster of Trinity College asks Archie Costello, the leader of the Vigils, a secret society that rules the school, to help with the selling of 20,000 boxes of chocolates in the annual fund-raising effort. Archie sees the chance of adding to his power he is the Assigner, handing out to the boys tasks to be performed if they are to survive in the school. Freshman, Jerry Renault, a newcomer to the corrupt regime, refuses to sell chocolates. Enormous mental and physical pressure is put on him but he will not give in the result is an inevitable, explosive tragedy.
___
Speak'by Laurie Halse Anderson
Blurb:'Melinda Sordino busted an end-of-summer party by calling the cops. Now her old friends wont talk to her, and people she doesnt even know hate her from a distance. The safest place to be is alone, inside her own head. But even thats not safe. Because theres something shes trying not to think about, something about the night of the party that, if she let it in, would blow her carefully constructed disguise to smithereens. And then she would have to speak the truth.
____
Home of the Braves by David Klass
Blurb:'That was the truth I came to in that long and frozen moment. This was my life. Not the life of any of the people around me, clamoring for blood, but mine. I had to make the decision, and I had to make it now, or it would be made for me.
__
The Outsiders'by SE Hinton'(see my review)
Blurb:'According to Ponyboy, there are two kinds of people in the world: greasers and socs. A soc (short for social) has money, can get away with just about anything, and has an attitude longer than a limousine. A greaser, on the other hand, always lives on the outside and needs to watch his back. Ponyboy is a greaser, and hes always been proud of it, even willing to rumble against a gang of socs for the sake of his fellow greasersuntil one terrible night when his friend Johnny kills a soc. The murder gets under Ponyboys skin, causing his bifurcated world to crumble and teaching him that pain feels the same whether a soc or a greaser.
'___
Blurb:'After eighth grader Bart Rangely is granted a mercy scholarship to an elite private school after his father is killed in the North Tower on 9/11, doors should have opened. Instead, he is terrorized and bullied by his own mentor. So begins the worst year of his life.
___
Blurb:'It's bad enough being the new kid, but as a freshman, Jimmy finds school less enjoyable than many of his classmates.Standing 5'5' and weighing 187 pounds, he's subjected to a daily barrage of taunts and torments. His only sources of comfort are his family, his youth group, and his favorite foods. When his English teacher assigns a journal as a writing project, Jimmy chronicles not only his struggles but also his aspirations to lose weight and win the girl of his dreams.
___
Blurb:'Its been five years since I clicked Send. Four years since I got out of juvie. Three months since I changed my name. Two minutes since I met Julie. A second to change my life. All Dan wants for his senior year is to be invisible. This is his last chance at a semi-normal life. Nobody here knows who he is. Or what hes done. But on his first day at school, instead of turning away like everyone else, Dan breaks up a fight. Because Dan knows what its like to be terrorized by a bullyhe used to be one. Now the whole school thinks hes some kind of heroexcept Julie. She looks at him like she knows he has a secret. Like she knows his name isnt really Daniel
___
Blurb:'When she is caught in the backseat of a car with her older brothers best friend Deanna Lamberts teenage life is changed forever. Struggling to overcome the lasting repercussions and the stifling role of school slut, she longs to escape a life defined by her past.
With subtle grace, complicated wisdom and striking emotion, Story of a Girl reminds us of our human capacity for resilience, epiphany and redemption.
___
The Misfits'by James Howe
Publishers Weekly description:'What do a 12-year-old student who moonlights as a tie salesman, a tall, outspoken girl, a gay middle schooler and a kid branded as a hooligan have in common? Best friends for years, theyve all been the target of cruel name-calling and now that theyre in seventh grade, theyre not about to take it any more. In this hilarious and poignant novel, Howe (Bunnicula; The Watcher) focuses on the quietest of the bunch, overweight Bobby Goodspeed (the tie salesman), showing how he evolves from nerd to hero when he starts speaking his mind. Addie (the outspoken girl) decides that the four of them should run against more popular peers in the upcoming student council election. But her lofty ideals and rabble-rousing speeches make the wrong kind of waves, offending fellow classmates, teachers and the principal. It is not until softer-spoken Bobby says whats in his heart about nicknames and taunts that people begin to listen and take notice, granting their respect for the boy they used to call Lardo and Fluff. The four misfits are slightly larger than life wiser than their years, worldlier than the smalltown setting would suggest, and remarkably well-adjusted but there remains much authenticity in the storys message about preadolescent stereotyping and the devastating effects of degrading labels. An upbeat, reassuring novel that encourages preteens and teens to celebrate their individuality. Ages 10-14. (Oct.) Copyright 2001 Cahners Business Information.
___
Everybody Sees the Ants by A S King
Blurb:'Lucky Linderman didnt ask for his life. He didnt ask his grandfather not to come home from the Vietnam War. He didnt ask for a father who never got over it. He didnt ask for a mother who keeps pretending their family is fine. And he certainly didnt ask to be the recipient of Nadar McMillans relentless bullying, which has finally gone too far.'Lucky has a secret'one that helps him wade through the daily dysfunction of his life. Grandad Harry, trapped in the jungles of Laos, has been visiting Lucky in his dreams'and the dreams just might be'real:'an alternate reality where he can be whoever he wants to be and his life might still be worth living. But how long can Lucky remain in hiding there before reality forces its way inside?'Printz Honor recipient A. S. Kings distinctive, smart, and accessible writing shines in this powerful novel about learning to cope with the shrapnel life throws at you, and then taking a stand against it.
__
Torn'by Cat Clarke
Blurb:'Four girls. One dead body. A whole lot of guilt.'Alice King isnt expecting the holiday of a lifetime when she sets off with her classmates on a trip to the Scottish wilderness, but shes not exactly prepared for an experience beyond her darkest nightmares.'Alice and her best friend Cass are stuck in a cabin with Polly, the social outcast, and Rae, the moody emo-girl.Then theres Tara queen of mean. Powerful, beautiful and cruel, she likes nothing better than putting people down.Cass decides its time to teach Tara a lesson shell never forget. And so begins a series of events that will change the lives of these girls forever
___
The Girls'by Amy Goldman Koss
Description from School Library Journal:'When the other members of Mayas clique decide to ostracize her, the girl is shocked and devastated. She has no clue what she could have done wrong, and neither do Brianna, Ren?e, or Darcy. However, Candace is their leader, the self-assured one, the one who decides whos in and whos not, and, suddenly, Mayas not. In brief chapters that jump from one girls perspective to another, a picture emerges of social status and peer pressure among middle schoolers who are struggling to figure out who they are, where they belong, and maybe even what is right. The voice of each character is clear and will be familiar to any adolescent. Kosss exceptional skill at evoking not only the girls, but also their families, makes this an important story for those in the midst of the cruelty of middle-school society. This provocative page-turner will be passed from one girl to the next like a note with the latest gossip.Susan Oliver, Tampa-Hillsborough Public Library System, FL
___
Quaking'by Kathryn Erskine
Booklist Description:'Fourteen-year-old Matt (short for Matilda) arrives at her latest foster home and discovers that her new guardians have personalitiesand convictionsas strong as her own. Unwillingly at first, Matt eventually accompanies foster parent Sam to Quaker Friends meetings. She also learns to cope with a new school, where she likes most of the classes but fears a bully and her world civ. teacher. A series of attacks on area houses of worshippresumably by locals angered by antiwar sentiments espoused by the Quaker congregation membersbuilds to a heavily foreshadowed climax. In spite of Matts rather quick adjustment to family life after years of fear and emotional deadening, this is a compelling story, which enfolds the political issues into a deeper focus on the characters personal stories. Idealistic teens will be interested in Matts growing acceptance of her new family, of Quaker values, and of her need to take action, rather than simply observe. Francisca Goldsmith Copyright ' American Library Association. All rights reserved
___
The Goats'by Brock Cole
Blurb:'Stripped and marooned on a small island by their fellow campers, a boy and a girl form an uneasy bond that grows into a deep friendship when they decide to run away and disappear without a trace.
___
Some Girls Are'by Courtney Summers
Blurb:'Climbing to the top of the social ladder is hard falling from it is even harder. Regina Afton used to be a member of the Fearsome Fivesome, an all-girl clique both feared and revered by the students at Hallowell Highuntil vicious rumours about her and her best friends boyfriend start going around. Now Reginas been frozen out and her ex-best friends are out for revenge. If Regina was guilty, it would be one thing, but the rumours are far from the terrifying truth and the bullying is getting more intense by the day. She takes solace in the company of Michael Hayden, a misfit with a tragic past who she herself used to bully. Friendship doesnt come easily for these onetime enemies, and as Regina works hard to make amends for her past, she realizes Michael could be more than just a friendif threats from the Fearsome Foursome dont break them both first. Tensions grow and the abuse worsens as the final days of senior year march toward an explosive conclusion in this dark new tale from the author of Cracked Up To Be.
__
By the Time you Read this Ill be Dead'by Julie Anne Peters
Blurb:'Daelyn's'been the victim of bullying throughout her life and now she's simply counting down the days until she can commit her final act on Earth. It's destiny that she finds a Web site to help her in her quest. She has the motive, the means, and the determination. Then she meets this boy, Santana, who makes her examine her choice of death over life. But is he too late to save her? And is she too damaged to save him?
___
Brutal'by Michael Harmon
Booklist description:'With her martyr-doctor mother gone to save lives in some South American country, Poe Holly suddenly finds herself on the suburban doorstep of the father she never knew, who also happens to be a counselor at her new high school. She misses Los Angeles. She misses the guys in her punk band. Weirdly, she even misses the shouting matches she used to have with her mom.'But Poe manages to find a few friends: Theo, the cute guy in the anarchy Tshirt, and Velveeta, her oddly likeable neighbor'and a born victim who's the butt of every prank at Benders High. But when the pranks turn deadly at the hands of invincible football star Colby Morris, Poe knows she's got to fix the system and take down the hero.'With insightfulness, spot-on dialogue, and a swiftly paced plot, Michael Harmon tells the story of a displaced girl grappling with a truly dangerous bully.
_______________________
Getting the Girl by Susan Juby
Blurb:'Short. Nerdy. Amateur P.I. And prepared to do anything for Dini Trioli, tenth-grade goddess.Nobody knows how the tradition began, but every girl at Harewood Tech fears being D-listed, a ritual that wipes her off the social map forever. When Sherman believes Dini is in danger of being D-listed, he launches a full-scale investigation to save her. Part comedy, part mystery, and with all of Juby's trademark laugh-out-loud style,'Getting the Girl takes on the cruelest aspect of high school social life.'Meet Sherman Mack, the only one willing to fight back.
_______
Bystander'by James Prellier
Blurb:'Eric is the new kid in seventh grade. Griffin wants to be his friend. When you're new in town, it's hard to know who to hang out with'and who to avoid. Griffin seems cool, confident, and popular.'But something isn't right about Griffin. He always seems to be in the middle of bad things. And if Griffin doesnt like you, you'd better watch your back. There might be a target on it.'As Eric gets drawn deeper into Griffin's dark world, he begins to see the truth about Griffin: He's a liar, a bully, a thief. Eric wants to break away, do the right thing. But in one shocking moment, he goes from being a bystander . . . to the bully's next victim.
_______
Buddha Boy'by Kathe Koja
The kids at school call Jinsen Buddha Boy. he wears oversize tie-dyed dragon T- shirts, shaves his head, and always seems to be smiling. Hes clearly a freak. Then Justin is paired with him for a class project. As he gets to know Jinsen and his incredible artistic talent, Justin questions his own beliefs. But being friends with Buddha Boy isnt simple, especially when Justin realizes that hes going to have to take sides. What matters more: the high school social order or getting to know someone extraordinary?
_____
Freak by Marcella Pixley
Blurb:'For Miriam Fisher, a budding poet who reads the Oxford English Dictionary for fun, seventh grade is a year etched in her memory clear as pain. Thats the year her older sister, Deborah, once her best buddy and fellow alien, bloomed like a beautiful flower and joined the high school in-crowd. Thats the year high school senior Artie Rosenberg, the hottest guy in the drama club and, Miriam thinks, her soul mate, comes to live with Miriams family. And thats the year the popular watermelon girls turn up the heat in their cruel harassment of Miriamripping her life wide open in shocking, unexpected ways. Teased and taunted in school, Miriam is pushed toward breaking, until, in a gripping climax, she finds the inner strength to prove shes a force to be reckoned with.
___
The Revealers by Doug Wilhelm
Parkland Middle School is a place the students call Darkland, because no one in it does much to stop the daily harassment of kids by other kids. Three bullied seventh graders use their smarts to get the better of their tormentors by starting an unofficial e-mail forum at school in which they publicise their experiences. Unexpectedly, lots of other kids come forward to confess their similar troubles, and it becomes clear that the problem at their school is bigger than anyone knew. The school principal wants to clamp down on the operation, which she does when the trio, in their zealousness for revenge, libel a fellow student in what turns out to have been a setup. Now a new plan of attack is needed . . .
__
Schooled by Gordon Kolman
Capricorn Anderson had never watched a television show'before. Hed never tasted a pizza. He had never even'heard of a wedgie. And he had never, in his wildest dreams, thought of living anywhere but Garland Farm commune'with his hippie caretaker, Rain.'Capricorn (Cap for short) had lived every day of his life on Garland Farm growing fruits and vegetables. He was homeschooled by Rain, the only person he knew in the world.'Life was simple for Cap.'But when Rain falls out'of a tree while picking plums and is hospital-ridden,'he has to attend the local middle'school and live with his new guidance counselor and her irritable'daughter. While Cap knew a lot about Zen Buddhism, no amount formal education could ready him'for the trials and tribulations of public middle school.'Cap doesnt exactly fit in at Claverage Middle School (dubbed C Average by the kids). He has long, ungroomed hair, wears hemp clothes, and practices Tai Chi out on the lawn. His'weirdness'basically makes him biggest nerd'in school. This is great news for Zach Powers,'big man on campus.' He cant wait to instate the age-old tradition in C-Average School:' The biggest nerd is nominated for class presidentand'wins.' So when Cap becomes president, he is more puzzled than ever.' But as'Cap begins to take on his duties,'the joke starts to turn on Zach.'Will Cap'turn out to be'the greatest President in the history of C-Average School?' Or the biggest punchline?
____
This is What I Did'by Ann Dee Ellis
Imagine if you had witnessed something horrific. Imagine if it had happened to your friend. And imagine if you hadnt done anything to help. Thats what its like to be Logan, an utterly frank, slightly awkward, and extremely loveable outcast enmeshed in a mysterious psychological drama. This story allows readers to piece together the sequence of events that has changed his life and changed his perspective on what it means to be a good friend and what it means to be a good person.
___
Blubber'by Judy Blume
Blubber is a good name for her, the note from Wendy says about Linda. Jill crumples it up and leaves it on the corner of her desk. She doesnt want to think about Linda or her dumb report on the whale just now. Jill wants to think about Halloween.'But Robby grabs the note, and before Linda stops talking it has gone halfway around the room.'Thats where it all starts. Theres something about Linda that makes a lot of kids in her fifth-grade class want to see how far they can go but nobody, least of all Jill, expects the fun to end where it does.