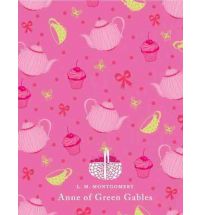 Anne of Green Gables'and its accompanying volumes had pride of place on the shelves of the local library of my childhood, with multiple dog-eared copies of each jammed on to the shelves. But for some reason, despite reading close to everything in that humble little venue, I bypassed Anne, and it wasnt until I began a concerted effort to work through some of the young adult classics featuring female protagonists that Anne made an appearance on my TBR at last.'Needless to say, this review is somewhat belated, for not content with the first book, I zipped through the whole series (or at least what I could get my hands on) in quick succession.'For me, sympathetic characters are crucial to my enjoyment of a book, and in Anne I found a kindred spirit with whom I was more than delighted to spend my evening (and many early waking) hours.
Siblings Matthew and Marilla have long tended their property in Avonlea, Prince Edward island, but both agree that its time to enlist the help of a young, robust boy. And so they set about arranging the adoption of a young lad. However, when Matthew arrives to pick up his new charge, he finds that the boy in question is, well, not a boy at all. Instead, hes greeted by the lively verve of orphan Anne Shirley, whose imaginationand capacity to chatterknows no bounds. Matthew dutifully takes Anne back to Marilla, wondering all the while how he is to break the news to Anne about her being of decidedly the wrong gender. But Anne is nothing if not endearing, and Matthew and Marilla simply cant find it in themselves to send her back to the orphanage. Really, who needs a farm hand, anyway?
Vivacious, curious Anne breathes life and hilarity into her new home at Green Gables, her dreamy nature and explorative ways seeing her caught up in endless mischief and misdeeds despite her unswervingly good intentions. Her imaginative exploits see her tiptoeing, terrified, through the woods she has convinced herself are haunted; her red hair is turned a bewitching shade of green after applying a hair tonic peddled by a travelling salesman; her efforts to host a dignified tea party go terribly awry after she addles her friend Diana Barry on what she believes to be red cordial, but is actually rather potent red wine. Even at the best of times Anne is prone to flights of fancy, with dresses boasting puffed sleeves and fictional narratives involving her alterego Cordelia driving her to amusing distraction.
But for all of her dreamy foibles, Anne is quick-witted and determined, and the opportunities offered to her as a result of being brought into the Cuthberts home see her take to her studies with vigour. She is a stand-out student (geometry excepted, but thats par for the course for many of us bookish types), and soon finds that tertiary study is in her sightsan unusual path for a female in Annes times. Indeed, Anne is derided by some for her desire to better herself, with some of Avonleas residents scorning her for setting her attention to something that will do nothing to help her gain a husband or keep a home. Anne takes these comments in her stride, managing her detractors with aplomb, and her feminist ways had this reader cheering her on. Anne is strong and winsome, but not flawless, and Montgomery ensures balance enough that although her protagonist is a cheerful delight, she is not so perfect that she turns away the reader.
Indeed, Annes simple passions and concernswill she ever get those puffed sleeves? is she doomed for all eternity to have red hair and freckles?are pitted against rather more pressing ones, and Montgomery ensures that her Anne is put through her paces by challenging external forces. The most moving of these is the situation that occurs at the end of the book, where'a series of events at home sees Anne choosing between her education and her new-found family and the home theyve invited her into. Its in this scene that we see the full extent of Annes transformation over the past few years, and where the quiet presence of Matthew and the hard-edged but palpable love of Marilla truly hits home. Its a bittersweet but perfect ending, and works so beautifully because of Montgomerys carefully elegant characterisation and her ability to trace a narrative across the years without straining it or forcing it to be something it oughtnt to be.
Told in a series of vignettes and episodes,'Anne of Green Gables'is a gentle, simple story, but its one thats utterly infused with warmth and compassion, and is brimming with characters so vividly drawn that its impossible not to find yourself utterly enamoured by it.
Rating:





Purchase Anne of Green Gables from
Amazon'|'Book Depository UK'|'Book Depository USA'|'Booktopia
or support your'local independent.
Your turn: do you have a favourite heroine from a childrens classic?
Other books by L.M. Montgomery: